AIPI COVID-19 Update April 7, 2020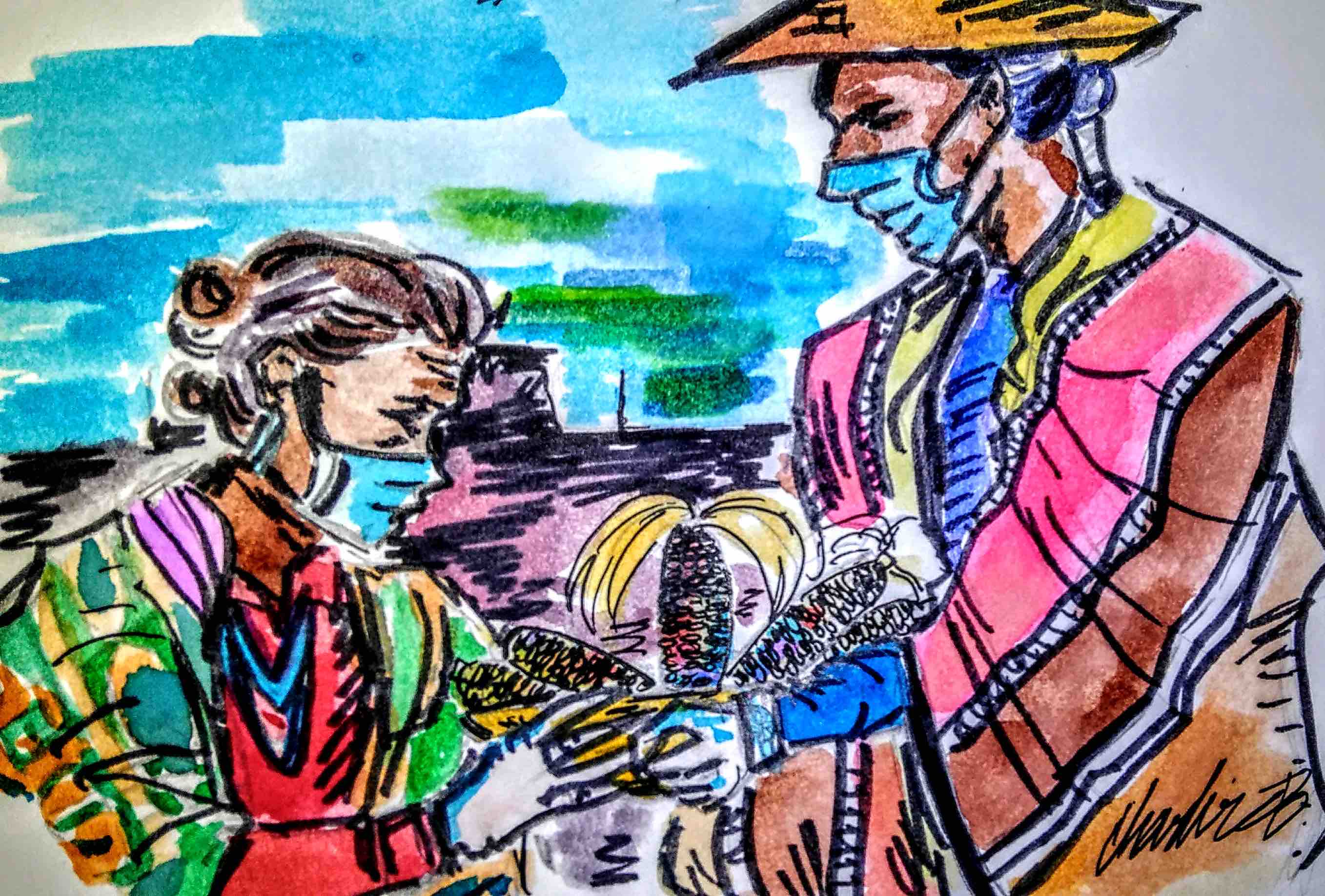 Image Source: Ethel Branch, Navajo & Hopi Families COVID-19 Relief Fund
How to Support Indigenous Organizers Fighting Coronavirus in Native American Communities (April 3, 2020) 
In recent weeks, federal aid spending packages have dominated the news cycle, including funding for relief to tribal communities. But tribes are not sitting idle, waiting for help from Washington. Rather, indigenous communities and organizations around the country are taking proactive measures to combat COVID-19 amongst their people. In addition to collaborating with the Decolonizing Wealth Fund to launch the Native American Community Response Fund highlighted in a post last week, Native Americans in Philanthropy is compiling a list of funds across tribal communities to make donating easier. The Teen Vogue piece (linked above) also highlights other Indigenous projects you can contribute to, including assisting Navajo Nation efforts. 

Native American Tribes Respond to Pandemic With Limited Resources (April 6, 2020) 
Tribes have begun restricting access to reservations, while trying to increase limited supplies as the coronavirus spreads in the U.S. The Oglala Sioux Tribe of South Dakota has set up checkpoints to limit non-essential visits from non-residents. Tyler Yellow Boy, the tribe's ambulance director and a pandemic task force member, says the tribe has no reported cases of COVID-19 yet and hopes to keep it that way. The tribe has made requests through the state for additional supplies, but, similar to other governments, Yellow Boy describes the overall attempt to bolster stockpiles as "difficult." The Oglala Tribe has enacted a shelter-in-place order, established curfews, and is pushing out safety messages on local radio and social media. For those who might not have access to online platforms, local officials are getting creative. "President Bear Runner and myself...hooked up a P.A. system behind a pick-up and I ran with my sirens on and went to communities—turned the sirens on so everybody would come out of their homes and they would listen to what was coming through the P.A.," said Yellow Boy. Similar P.A. system efforts from the Navajo Nation were shared on social media in recent weeks, as tribal leaders are careful to spread awareness to all members.
Two Nevada Tribes Order Mandatory COVID-19 Curfews, Fines (April 6, 2020) 
The Reno-Sparks Indian Colony and Pyramid Lake Paiute Tribe have become the first governmental entities in Nevada to order mandatory curfews punishable by fines and potential jail time for repeat offenders in response to the spread of the coronavirus. For the Reno-Sparks Indian Colony, the curfew requires members to stay in their homes from 9 p.m. to 5 a.m. through April 30 unless they are working in essential businesses, obtaining emergency medical treatment or making essential trips. "It is now against the law to have unnecessary gatherings," Tribal Chairman Arlan Melendez wrote in an April 3 directive to it's more than 1,500 members. Repeat offenders are penalized heavily, with some potentially facing jail time. The Pyramid Lake Paiute Tribe's curfew runs indefinitely from 10 p.m. to 5 a.m. on its reservation with similar exceptions for emergencies and use of essential services. Violators are subject to a $100 fine as tribal governments take steps to ensure the safety of their peoples. 
 Group of First Nations want Supreme Court to hear appeal on Trans Mountain (April 7, 2020)
In Canada, despite the COVID-19 shutdown, construction of the Trans Mountain pipeline is proceeding amidst a chorus of tribal leaders voicing their continued opposition. A group of British Columbia First Nations is seeking to challenge the federal government's second approval of the pipeline expansion project in Canada's Supreme Court. After overturning the cabinet's original approval of the expansion project, citing insufficient consultation with Indigenous Peoples and a failure to take into account the effect on marine animals, Canada's Federal Court of Appeals gave the project the green light in a February ruling. First Nations are challenging the adequacy of the cabinet's consultation, noting that "as owners of the project, [cabinet members] were unable to objectively assess the adequacy of their own consultation." Although many court processes are paused as a result of the pandemic, deadlines for leave to appeal applications remain in effect, as First Nations ready themselves to take the fight to protect their homelands to Canada's highest court.  
Other online resources available
Centers for Disease Control and Prevention - Coronavirus (COVID-19) 
Indian Country Today's COVID-19 Syllabus for the latest updates on the virus
IHS Coronavirus Page; IHS Announcements 
National Congress of American Indians - Indian Country Resources: Coronavirus (COVID-19) 
National Council of Urban Indian Health: Coronavirus Resource Center