Stories of Resilience from Indian Country, Volume #6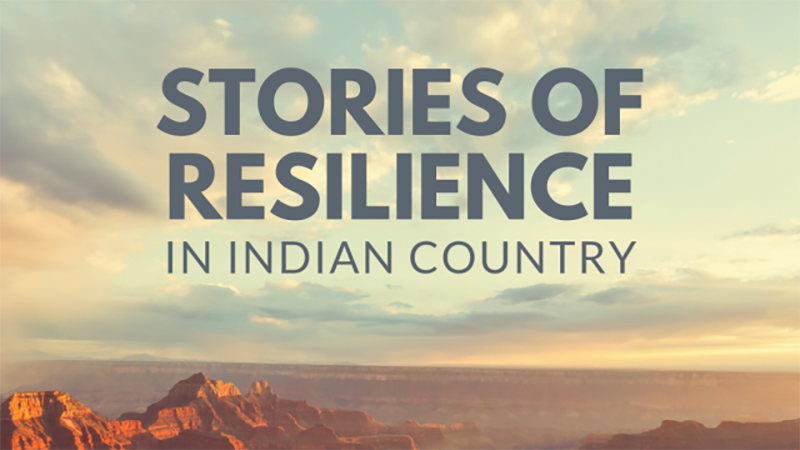 Illuminatives and NDN Collective: Native Americans & Covid-19 Town Hall (May 1, 2020) 
Illuminatives, in partnership with NDN Collective and Indian Country Today, hosted the Native Americans & COVID-19 Town Hall on April 30. The multi-panel discussion covered the impact of COVID-19 on health in Indian Country, tribal governments and economies, and the disproportionate impacts on native peoples and communities of color. Panelists also discussed resilience and community building in the time of COVID-19 and "pathways forward for resilience, health and transformative change." One of the main takeaways of the town hall meeting is that we, meaning Indian Country and the United States as a whole, cannot return to life as "normal" after COVID-19. "Normal wasn't working for us," said Minnesota Lt. Gov. Peggy Flanagan (White Earch Band of Ojibwe). "Let's reject the idea of returning to normal. Let's return to better." Judith LeBlanc (Caddo Tribe of Oklahoma) of the Native Organizers Alliance said now is the time to break "the racial digital divide." She said, "Make Wi-Fi and broadband access as essential as water…Let's wage a fight to make broadband a right." Finally, Mark Trahant (Shoshone-Bannock), Indian Country Today Managing Editor, said tribes should "take advantage of the disruption" caused by COVID-19 "to look for new ways to have our story heard." Click the link above to watch the full video. 
Resilience fund helps support Native American artists (April 30, 2020) 
In South Dakota, Rapid City-based First Peoples Fund has stepped in to help Native American artists. In addition to shifting funding from canceled events and programs, the organization is launching a fundraising effort called the Resilience Fund. The Resilience Fund is an emergency relief fund for grassroots artists and culture bearers whose income has been impacted by the COVID-19 crisis and provides support to artists who have lost income during the pandemic. 
Alabama-Coushatta Tribe donates to Helping Hands (April 30, 2020) 
In Texas, tribes are giving back to their surrounding communities. The Alabama-Coushatta Tribe of Texas presented a $2,500 donation to Sam Houston Electric Cooperative's Helping Hands program on April 29. Tribal Council Chairwoman Cecilia Flores said, "The donation was made in honor of Jennifer Grubbs, and her service and dedication to our community," Flores said. Grubbs, who had worked for Church Street Financial, recently passed away. Sam Houston Electric Cooperative's Helping Hands Program provides funding to help members in distress pay their electric bills. "This donation is tremendously helpful, and will make an immediate impact for families in our area," said SHEC Chief Communications Officer Keith Stapleton.
White Mountain Apache Tribe receives seven truckloads of supplies for COVID-19 (May 1, 2020) 
A large donation of hygiene products were delivered to the White Mountain Apache Tribe, April 29. White Mountain Independent News reported that seven pickup truck loads of products such as boxes of toilet paper and Personal Protective Equipment (PPE) were delivered to the reservation. The tribe received gloves, masks, face shields, isolation gowns, goggles, shoe covers, bottled water, Gatorade and tea. The donation was sponsored, in part, by corporations, including Lowes, Pepsi, Summit Healthcare, Home Depot, Bashas', Walmart, the Navajo County Sheriff's Office, and Indigenous Goddess Gang, in addition to individual donations. 
Sac and Fox Nation Announces COVID-19 Relief Program for Elders (May 1, 2020) 
The Sac and Fox Nation announced last week that it will deliver food and supply baskets to elders residing in the Sac and Fox Nation's jurisdiction, as part of the Sac and Fox Nation Title VI Elders Program. In addition, the tribe will provide a one-time disbursement of $150.00 to all enrolled Sac and Fox tribal citizens who are age 55 or over. "We hold our elders in the highest regard," said Principal Chief Justin F. Wood. "Our intention for this program is to assist our elders as they continue to shelter in place. Helping our elders is a core belief of the Sac and Fox culture." 
11 tons of pet food donated to Wind River Reservation (May 1, 2020) 
The Humane Society of the United States (HSUS) donated 22,000 pounds of food for Wind River Reservation pets during the pandemic. "The Humane Society of the United States quickly realized that the COVID-19 outbreak would be particularly difficult for members of our rural communities who were struggling before this crisis hit to access pet food," said Lisa Kauffman, Senior State Director for Idaho and Wyoming. "Pets mean so much to their families, especially during times of isolation and fear, and the shipments of food we were able to provide enables us to keep people and their pets together during these difficult times." The Animal Adoption Center (AAC) in Jackson, Wyoming asked HSUS for assistance and, within days, HSUS responded with 11 tons of pet food. The resources are being shipped directly to the Eastern Shoshone and Northern Arapaho Tribes. They will be distributed, along with separately donated food for people and sanitation supplies made possible through local, regional and national efforts. In addition to its support on the Wind River Reservation, the HSUS is also sending pet food to reservations located in Idaho and Montana. 
COVID-19 Navajo and Hopi Elder Support Project Project
There are a number of volunteer aid services rapidly building up to serve the people of the Navajo Nation and Hopi tribe. The need is high, in part because of the proximity of living quarters and also due to the rural nature of the communities. One of our staff, Mikhail Sundust, is a volunteer with the COVID-19 Navajo and Hopi Elder Support Project Project. What sets this project apart is that it is based on relational networks, meaning the communities served are connected through personal relationships with volunteers. This avoids impersonal "hand-outs" and means that the more volunteers willing to join the effort, the more communities can be reached. The project also strives to uphold the dignity of elders and their communities by not posting imagery intended to tug on one's sense of pity, but rather post updates that illustrate the strength of community leaders who serve the Navajo Nation and Hopi tribe on a regular basis.