I Can't Breathe, But I Want To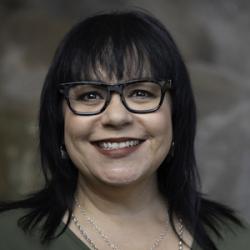 Dr. Traci Morris
AIPI Director
Ittifatpoli (Chickasaw: "talking about things that matter")
As we start June of 2020, AIPI and many in our country are still (months later) working remotely and taking great care to not expose ourselves, our families, our communities to COVID-19. We watched our students graduate from afar and are greatly proud of them, but cannot even give them a hug. We watched the first Americans in nine years go to the International Space Station via an American made rocket and space capsule. Yet when they entered the space station, they awkwardly received hugs from those already aboard, and we realized those astronauts haven't hugged anyone, any more than the rest of the world has, in so long that it's painful.
Maybe that's what the world needs right now. As we try to emerge from quarantine responsibly in the larger nation, Native Nations are now the top hot spots in the U.S. for COVID-19. We can't hug anyone. We're afraid to hug anyone. And now, in addition to COVID-19, the nation is struggling with a new crisis after the murder of an unarmed black man by a police officer was recorded and went viral. The U.S. and now the world is being rocked by demonstrations and violence in response. The protester's signs read: "I can't breathe" which were the last words George Floyd spoke. We know that Native Americans also suffer from systemic racism and are at risk for violence by police at comparable rates to African Americans. In Minneapolis, where the situation began, Native Americans were among those protesting as in other cities. Social media feeds filled up with images of drumming and prayers on one knee as first-hand accounts went viral.
It is our hope that we can be part of the solution. Protesting only goes so far. We need to be the change. In the midst of this, I'm moved to see that one of AIPI's former student workers, Christina Haswood, from two years ago is doing just that—she's running for office. We need people to run and it's starting. I'm so proud of the folks who've worked and work for us at AIPI. They will bring change so that we can all breathe easy again.
Foyopala'hi bíyyi'ka ki'yo (I can't breathe), but I want to.