Indian Country Stands in Solidarity with Black Lives Matter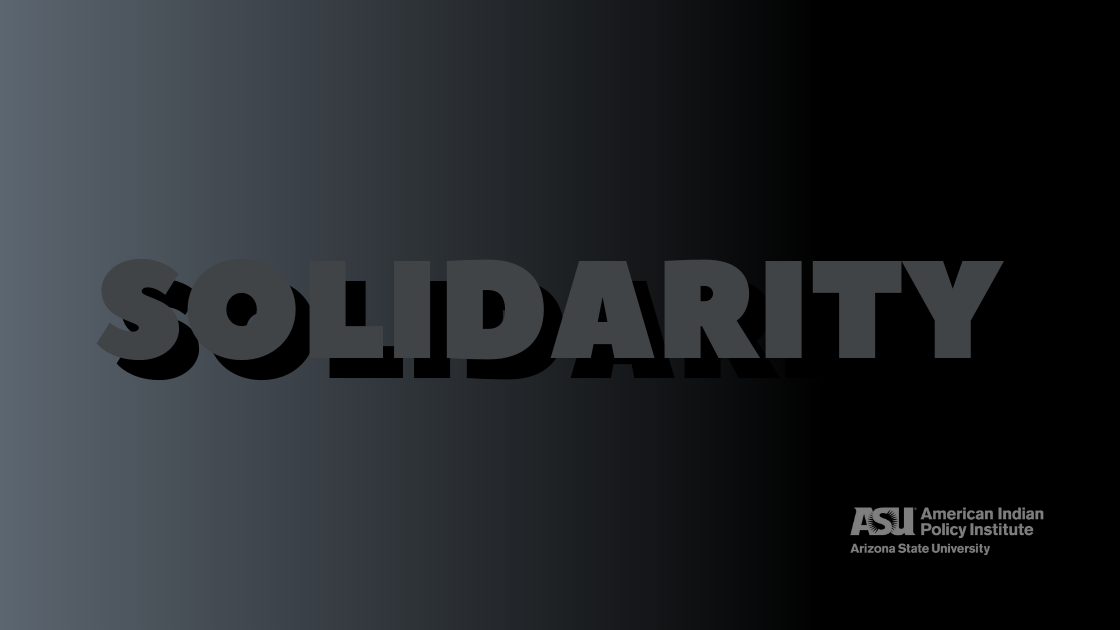 As protests across the country continue to demand justice for George Floyd, a Black man who died in police custody in Minneapolis, many Native Americans are joining the efforts. Earlier this week, Congresswomen Sharice Davids (Ho-Chunk, KS-03) and Deb Haaland (Laguna Pueblo, NM-01), the first two Native American women to serve in Congress, released a statement in solidarity with the African American community. "Though we will never know the experience of being Black in America, we know that Indian Country stands in solidarity with our Black brothers and sisters—committed to fighting for justice and channeling our frustration into meaningful action and change. Together we can build a more equitable and just society—one that lives up to the ideals we expect of our nation," wrote the Congresswomen. Paulette Jordan (Coeur d'Alene), who just this week won the Democratic primary for the open Senate seat in Idaho later this November, showed her support for the protests on Twitter, calling for #JusticeForFloyd. 
In Montana, tribal members expressed their support for the ongoing protests, while noting that Indigenous peoples are all too often left out of conversations surrounding racism. "It's not just a black and white issue - racial inequity affects all minority groups, and it needs to be an open dialogue, including everyone," said an interviewee. Jerilyn Church, CEO of the Great Plains Tribal Chairmen's Health Board in South Dakota, took a moment to share her thoughts on the death of George Floyd and the resulting protests in her weekly COVID-19 briefing. "Our country has witnessed the proliferation of trauma, both historical and current beginning with the horrific murder of George Floyd in Minneapolis. Many of our native brothers and sisters share in the grief and mourning of his death," said Church. "The voices of peaceful protest must be heard, and the fiery rage that dwells within must be directed to build what we want for our families and [communities]."  
In Minneapolis, the epicenter of protests, the local Native community isn't looking to the police to serve and protect, but is instead turning to AIM. The American Indian Movement was founded in the city more than 50 years ago in response to police brutality and is headquartered in an area of south Minneapolis known for its Native-owned businesses, housing and community centers. While members often cruise neighborhoods to protect the community and monitor police interaction, they spent much of last week standing guard amidst the riots and looting. An executive order issued by Minnesota Gov. Tim Walz exempted AIM members and volunteers from an 8 p.m. to 6 a.m. curfew in effect for Minneapolis to "patrol and protect Native-owned businesses," said Lisa Bellanger, AIM Executive Director. 
    Photo courtesy of Lisa Bellanger and Indian Country Today 
Although the recent arrival of the National Guard resulted in the cancellation of all community patrols, the unarmed guardians were effective in protecting Native-owned businesses and even detained a few bad actors -- white teens who came in from out-of-state to loot a local liquor store. The AIM members recovered the merchandise, took the teens' names and numbers and called their mothers in Wisconsin to come pick them up. Following days of unrest, a massive, peaceful demonstration was held last Saturday in the Powderhorn neighborhood where George Floyd died on the street. An Indigenous dance group performed to cheers and tears while people grilled and offered food to strangers.