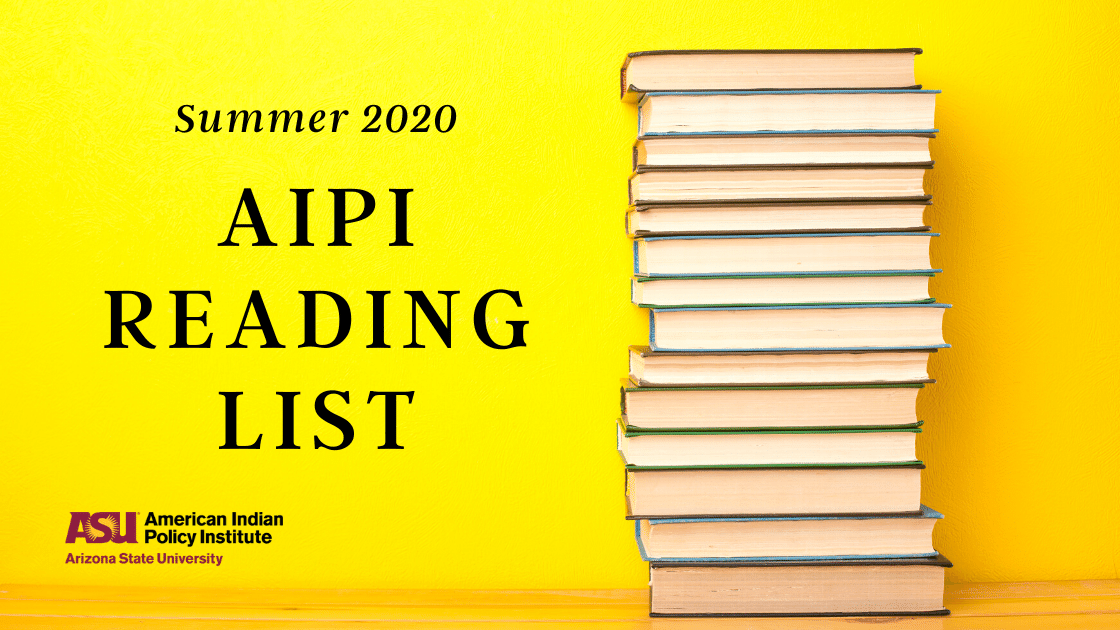 Summer is the perfect time to catch up on your reading list, but if you're looking for some suggestions, look no further than the AIPI Summer Reading List. 
1. Indian Horse (2012), Richard Wagamese
Indian Horse follows the story of a young First Nations man whose passion for hockey helps him survive the boarding school experience. It's a heart-wrenching but realistic picture of how the residential school systems imposed on Native children affected Indigenous populations for generations. It's a history lesson that is not taught in schools, told through a fictional character as relatable as any of your real life friends. 
2. The Power of Four (2009), Joseph Marshall 
In The Power of Four, author Joseph Marshall (Lakota) contemplates the legacies of Red Cloud, Sitting Bull, and Crazy Horse and extracts lessons from their remarkable leadership qualities that are applicable to modern-day realities. One thing that many readers will appreciate is the straight-forward nature of the writing. Marshall does not mince words when describing what true leadership looks like and what it does not. 
"True leadership," Marshall says, "is only possible when character is more important than authority." The book is more than just a history lesson; it serves as a model for what leaders (of large corporations, family units, or even friend groups) should aspire to. 
3. Trail of Lightning (2018), Rebecca Roanhorse
Trail of Lightning is the story of Maggie Hoskie, a Diné monster slayer, who must defeat an old friend, now a dangerous enemy. Author Rebecca Roanhorse (Black, Ohkay Owingeh) crafts an adventure story steeped in Navajo lore and tradition, but set in a dystopian future, one in which monsters have returned to the earth and some Diné have special "clan powers" based on the Navajo clan system. This book is an excellent step forward for representation of Indigenous peoples in sci-fi/fantasy literature. The story is full of adventure, mystery, action, and humor. Trail of Lightning is the first book in a series Roanhorse calls The Sixth World. 
4. Braiding Sweetgrass (2013), Robin Wall Kimmerer
With captivating prose, Robin Wall Kimmerer unveils timeless lessons that plants can teach us about life and the world we inhabit. In Braiding Sweetgrass, Kimmerer (Citizen Potawatomi) examines botanical history and biology through two lenses: Indigenous wisdom and Western science. From pecans to strawberries, from witch hazel to sweetgrass, Kimmerer challenges her reader to consider what we can learn from the plant kingdom and explores the harmonies that exist between traditional ecological knowledge and knowledge gleaned via the scientific method. This book is educational, insightful, and heart-warming. We could all be a little closer to the Earth. 
5. The Round House (2012), Louise Erdrich
It's less than a decade old, but The Round House is already a Louise Erdrich classic. With colorful prose, The Round House portrays a gut-wrenchingly honest examination of a modern-day crisis: Missing and Murdered Indigenous Women (MMIW). It's a complex novel that weaves together themes of history, tradition, tribal law and policy vs. federal Indian Law, sexual violence, and young manhood. Selected by The Virginia G. Piper Center for Creative Writing at ASU, who recently received a "Big Read Grant" from the National Endowment for the Arts, The Round House is this year's featured novel for the NEA Big Read: Phoenix.