Use this Map of Free Public Wi-Fi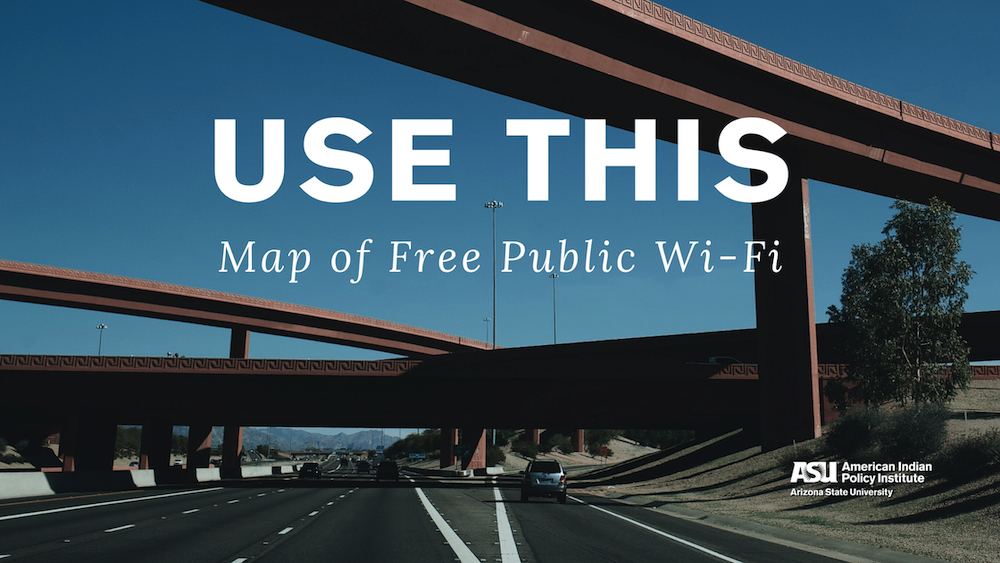 Arizona State University is committed to serving its Indigenous students, especially in uncertain times, such as these. We know that Indigenous students are less likely than their peers to have adequate internet access at home, which makes online learning extremely difficult if not impossible. Earlier this year, we published a policy brief that outlined the challenges students face and listed public policy decisions that can bring about change for the good. As an institution of higher education, ASU has a responsibility to be socially embedded and transform society, aiming to effectuate positive change for the communities and peoples it serves.
Fortunately, this map of free public Wi-Fi hotspots shows where students can find internet access at public libraries, schools, businesses, and other sites. Many of the hotspots are accessible from individuals' vehicles, if necessary, to maintain physical distancing safe practices.
If you are a Native student who's having internet access and network connectivity issues, check out the "ASU Indigenous Student Resources" on our blog.
According to Connect Arizona, the group that created the map, 1.3 million Arizonans lack internet access. Connect Arizona is working to bring digital equity to all Arizonans. "Digital equity is when everyone has access and use of the internet, devices, and digital literacy skills to thrive in society, democracy, and the economy regardless of their background and identity," according to its website. Furthermore, "Digital equity is when communities and tribal Nations can make their own decisions about broadband, technology, and accessibility."
According to its website, "Connect Arizona is a collaboration between Common Sense Media, School Connect, and the Arizona State Library, Archives & Public Records." The project "is supported by the Arizona State Library, Archives & Public Records, a division of the Secretary of State, with federal funds from the Institute of Museum and Library Services. Connect Arizona is broadly supported by the Arizona Broadband Stakeholder Network and the Arizona Commerce Authority."