Census Bureau Ordered to Continue Data Collection through October 31, Deadline for Apportionment Reporting Extended As Well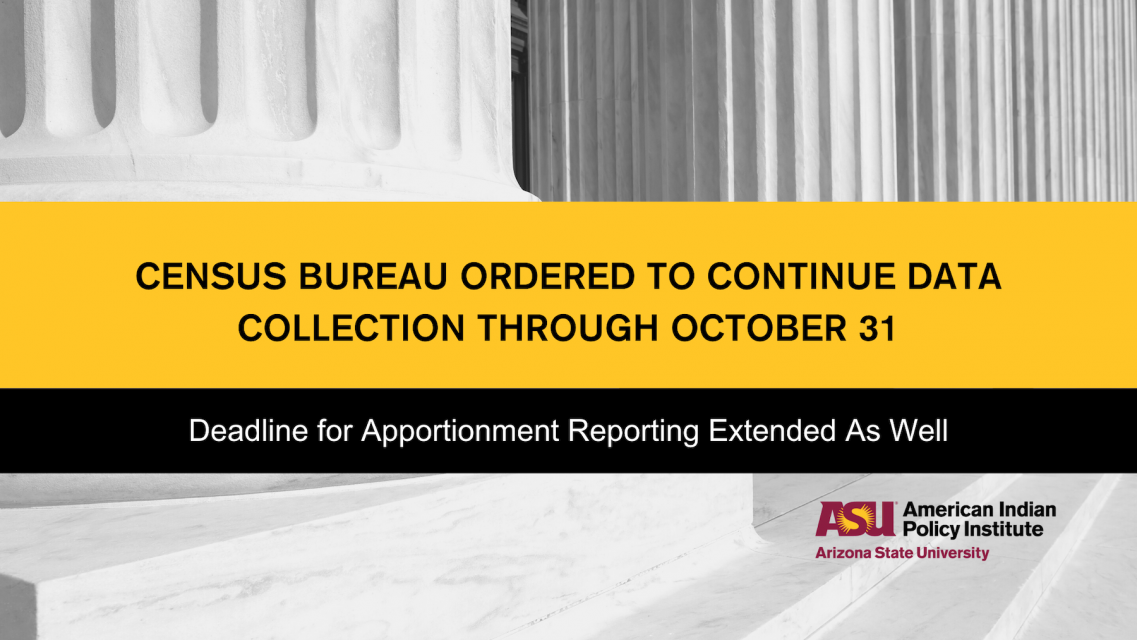 Yesterday, a federal district court judge ruled in National Urban League et al. v. Wilbur L. Ross Jr. et al in favor of the plaintiffs, that the U.S. Census Bureau must continue its data collection operations through its previously established deadline of October 31. In addition, the Census Bureau has been relieved of its December 31 deadline to generate a report for apportionment for the president, which gives the bureau the time it needs to conduct a complete count. 
Indian Country has responded favorably to the decision. American Indians and Alaska Natives have historically been the most undercounted populations in Census enumeration. A review of the 2010 Census found that Indigenous people suffered an undercount of nearly 5 percent, which would imply a decade's worth of underfunding for public services on tribal lands.
In her decision, U.S. District Judge Lucy Koh acknowledged the impact of the COVID-19 pandemic on the agency's ability to conduct a complete and accurate count, especially from delays imposed on the bureau's Update Leave and Non-Response Follow Up operations, both of which suffered low counts on tribal lands.
Two tribes—The Navajo Nation and the Gila River Indian Community (GRIC)—as well as the Phoenix Indian Center joined the litigation against the Census Bureau. The Gila River Indian Community released a public statement praising the decision. 
In it, GRIC Governor Stephen Roe Lewis said, "I am pleased that the Court's decision will provide additional time for census operations and provide the opportunity for a complete and accurate census. Indian Country is already the most undercounted population and we also have been the hardest hit by COVID-19, according to the CDC. To rush a census during a pandemic is an unnecessary assault against tribal nations – one that we would have to live with for the next ten years."
Last week, we published a policy brief with recommendations essentially matching the two orders issued in Koh's decision. Our brief, titled "Indian Country Opposes Shortened Census Timeline," recommended that the statutory reporting deadline for apportionment be extended beyond December 31, 2020 and that Census data collection operations continue through October 31, 2020 in order to "allow Indigenous people and all Americans time to respond and ensure that the country has as close to a full count as possible." We are pleased that these decisions have been made in the court.