Google Plus Codes - An Alternative Method for Mapping Tribal Lands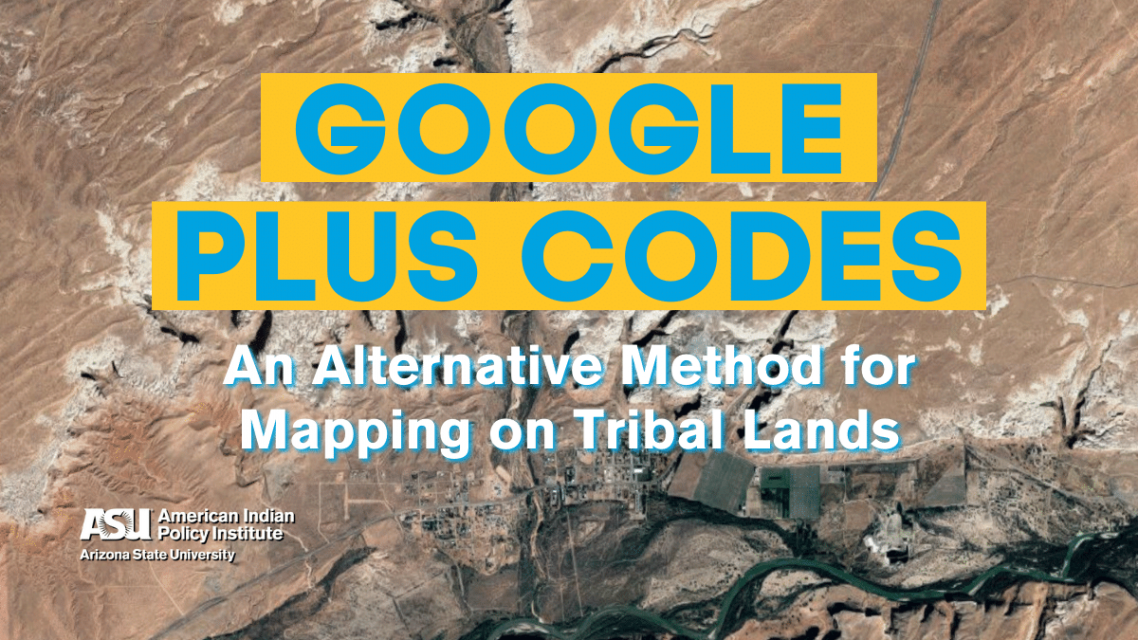 In a recent blog post, Google highlighted the work it has done with the Navajo Nation to adopt Google Plus Codes as an alternative to typical physical and mailing address options. In response to the COVID-19 pandemic, the Navajo Nation has utilized Plus Codes to map community Wi-Fi hot spots, food distribution and COVID-19 aide locations, and has partnered with shipping companies for the delivery of essential products and goods. 
For many tribes, providing accurate physical and mailing addresses to homes and other buildings can be a major challenge due to geographical obstacles and infrastructure limitations. While some homes, businesses, and other structures may have a traditional address capable of mail delivery and searchable in online maps, many others may rely on a Post Office Box for mail delivery, which could be located near a tribal service center or in a nearby town off reservation. Physical addressing may often resort to descriptive mile markers and geographic landmarks to provide directions, such as, "pass mile marker 157, make a right on the first dirt road you see, cross the cattle guard, and drive another 5 miles until you reach a cluster of houses, mine is the third house on the right."
While Native people are all too familiar with utilizing the "descriptive" physical addressing method of providing directions, the complications that accompany this method raises major concerns for a variety of reasons. The public safety community, for one, sees descriptive addressing as a challenge to providing proper and timely emergency response services. Some tribes have developed their own Geospatial Information System (GIS) mapping departments to work in tandem with federal agencies to map roads, utility lines, residential addresses, and other structures. However, more often than not these mapping systems serve a very specific function and are only accessible to certain federal and tribal authorities. The descriptive addressing method also raises questions about adequate access for voters during an election season and residents replying to the Census. 
With its wealth of geographic information and mapping technology, Google has developed a new method of mapping using a computer algorithm to condense latitude and longitude points into a unique code that can be addressed anywhere on the planet using Google Maps. This new method of addressing and mapping is called, Google Plus Codes. An example of this mapping system can be seen below. While AIPI's address is 201 N. Central Ave, Phoenix, AZ, 85004, Google Maps also makes reference to a Google Plus Code for AIPI's offices, which is FW2G+9P Phoenix, Arizona. Clicking on the Plus Code hyperlink will take you to Chase Tower on Google Maps, which is the building where AIPI is located.
Google Plus Codes offers an alternative to traditional mapping and addressing services, as well as new opportunities for tribes still struggling with accurate addressing on their reservations. For example, the Navajo Nation Division of Community Development used Google Plus Codes to provide logistics support to COVID-19 relief efforts in rural areas, where approximately 50,000 properties lack a traditional address. Plus Codes have the potential to revolutionize service delivery on tribal lands. The innovative uses of this special tool remain to be explored by the ingenuity of Indigenous peoples.