Meet E.J., Our new Policy & Research Analyst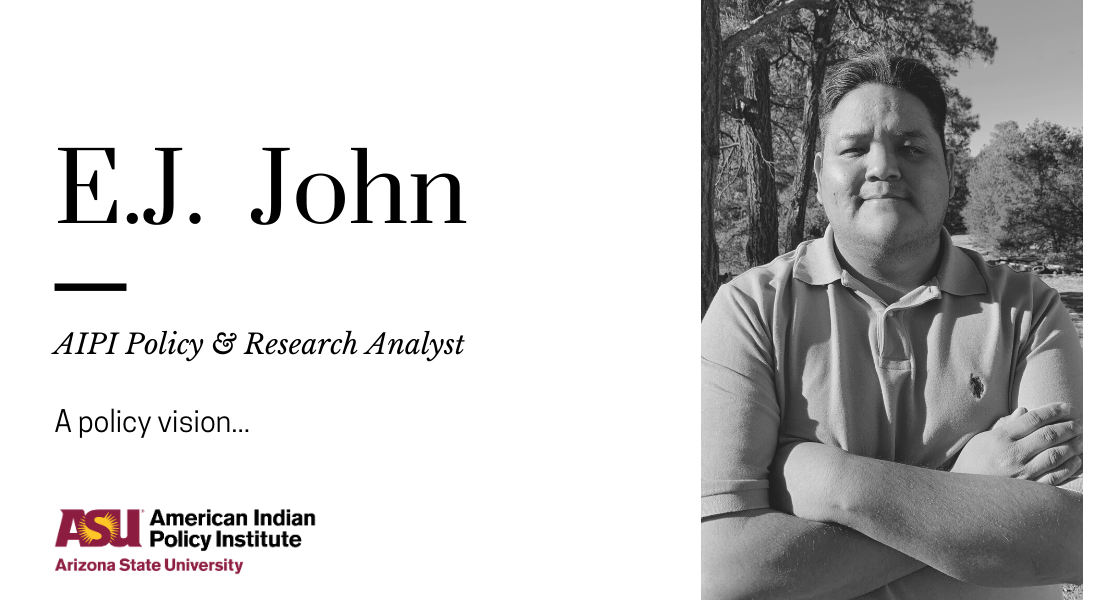 We are so excited to have E.J. John, JD, as part of our team! In the short time that he's been here, E.J. has risen to the challenge and jumped right in to the many changes taking place in Indian Country. His work at AIPI includes providing monthly legislative updates, so be sure to subscribe to our website so you don't miss anything!
Below, you can learn more about E.J., including his experience and interests.
E.J. John is Navajo and a member of the Salt Water clan, born for the Black Streaked Wood People clan. He says that learning his clans and where he comes from is one of his earliest lessons in policy. This has guided him on how to interact with those around him and has set all the expectations and responsibilities that he would need to live a healthy life.  E. J. believes that at its core, policy development is the way we develop the rules on how we navigate life. As he grows older, he learns a little more about living life through lectures, songs, stories, and observing. When E.J. was in college and studying government, he realized that he had been learning and experiencing policy development all throughout his life.
 
E.J.  learned the basics of policy development by working with local leaders in his home community of Chichiltah, NM on the Navajo Nation. His mother always worked as a public servant in the Navajo Nation Government, and the time he spent with her taught him what it means to work for your people. Today, he still works to meet the bar she set for him way back then. He also credits his mother with teaching him the significance of setting up shared understanding points, including the importance of having meeting agendas to guide a discussion. E.J. wants to continue to build on these points of common understanding, while also building on the incredible accomplishments of our ancestors and colleagues that came before us.
 
He believe that AIPI can continue to offer its assistance with policy analysis while making meaningful contributions to new policy development. This past year has presented us all with the greatest challenges we have ever faced in our lifetime. Now, more than ever, there is a need to develop new approaches to the policies that impact Indian Country. E.J. hopes to continue the great work of AIPI in a manner that continues to be practical and useful for everyone in Indian Country. He sees AIPI as being in the perfect position to lend its expertise and resources to these efforts, and he hopes that we at AIPI can make meaningful contributions alongside all the other great individuals, organizations, and Indigenous Nations working toward our common goals.