Meet our new Policy Communications Coordinator Emily McDonnell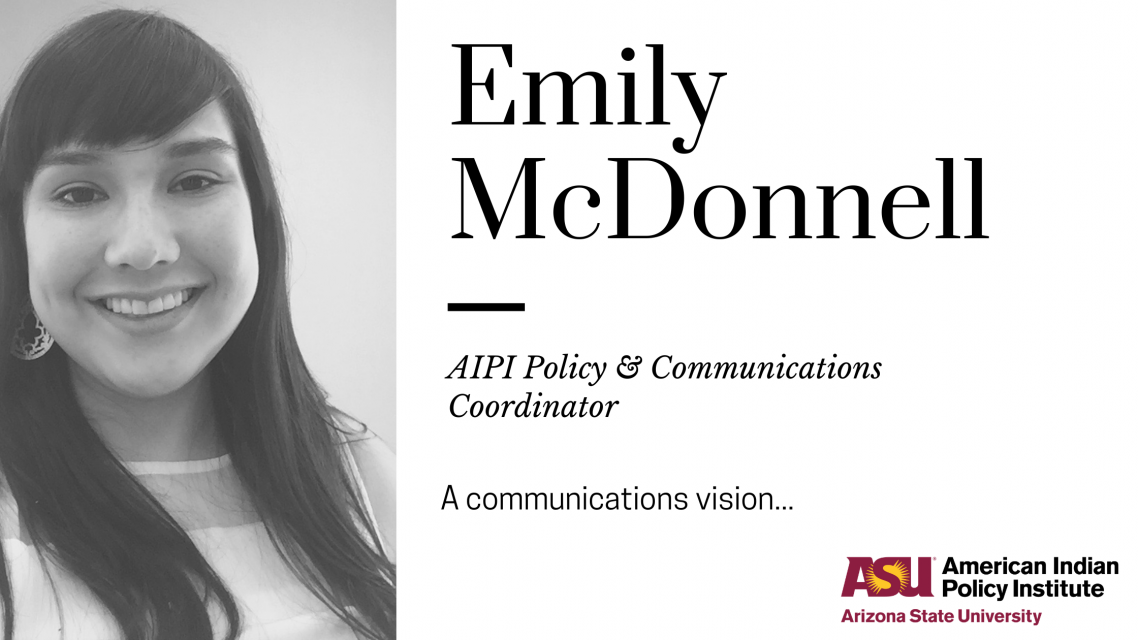 Yá'át'ééh. Shí éí Emily McDonnell yinishyé. Hello, my name is Emily and I am a proud member of the Navajo Nation. My Navajo clans are Near the Water clan, and the Many Goats clan. I am of Greek-Irish descent from my father's side. I am so excited to be part of the AIPI team! My position as the new Policy & Communications Coordinator allows me to combine two passions of mine---storytelling, and advocacy, both of which have been shaped by my upbringing and have led me to where I am today.
Ever since I was a child, I loved stories. As the daughter of a librarian, the power of storytelling was impressed upon me from a young age. Whether listening to our oral traditions passed down from elders or reading a favorite book with my dad, I've always been fascinated with the idea of storytelling as a means of communication. Stories are unique in the sense that they can transcend cultural, linguistic, and socioeconomic boundaries as a means to bring people together by imparting wisdom and knowledge  As I grew, so did my interest in advocacy. 

If you ask anyone in my home community on the reservation to describe me, one of the first words they would use is outspoken. I was always ready to give my opinion or offer my insight in a class. As an adult, I learned to fine-tune these skills in a way that has allowed me to use my "powers" for good by advocating for issues I care about. Since then, I've climbed higher up the educational ladder, always keeping my community and people in mind as I worked to obtain my master's degree. This newfound platform came with a broad audience eager to learn about Native America through my speech and writing. 

When I graduated with my MPA (Master of Public Administration) degree, I began searching for a position to serve my community and shed light on Native American history and issues. I immediately jumped at the opportunity to work at AIPI because I want to be at the forefront of the exciting changes taking place in Indian Country. As the Policy & Communications Coordinator, I have the privilege of being a storyteller through my analysis of public policy and current issues across Native America. This is not a job that I take lightly. I am humbled and grateful for the privilege I have been given to be the voice that brings knowledge and insight to the community. 

Something I've been reflecting on over the course of the pandemic is how far I've come as a Diné (Navajo) woman. I can't help but think of my ancestors who survived trials and tribulations so their descendants could carry on our traditions. My work is for them, and all Indigenous people who I carry in all that I do.