Debra Haaland Confirmed as Interior Secretary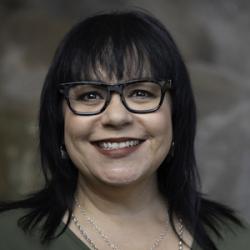 Dr. Traci Morris
executive director
Phoenix, Ariz. — The American Indian Policy Institute (AIPI) is excited to share that Representative Deb Haaland (D-NM) (Laguna Pueblo) has been confirmed as the 54th Secretary of the United States Department of the Interior. Rep. Haaland makes history as the first Native American to serve as Interior Secretary--the department that most directly impacts Indian Country.
"Today's confirmation of Deb Haaland to serve as Secretary of the Interior is a day all of Indian Country will celebrate and remember. Today is the first day in the history of these United States that a Native American will serve in a Presidential Cabinet and lead the Department of the Interior – the agency that has the largest impact on policies affecting Tribal Nations. I am proud of Secretary Haaland and will do everything within my power to make sure her tenure as Secretary of the Interior succeeds," said Gila River Indian Community Governor Stephen Roe Lewis and AIPI advisory board president.
The U.S. Department of the Interior has a vast number of responsibilities, including working directly with Tribal nations. The Secretary is also entrusted with overseeing public lands, natural resources including water and minerals, wildlife management, and historic preservation of cultural/heritage sites. One of the most profound tasks the Secretary must continuously uphold is honoring the binding trust responsibilities and treaties to Native Americans and Tribal communities. Rep. Haaland's confirmation signals a more inclusive approach to working with the 574 federally-recognized Tribal nations; a sharp turn for the department that has had a historically contentious relationship with Indian Country. As Secretary, Haaland will be a fierce advocate for Tribal sovereignty and will bring a unique cultural perspective to the position.
The Department of Interior oversees the Bureau of Indian Affairs. It is the legal obligation of the U.S. to fulfill the Trust Responsibility, requiring that treaty rights are upheld in exchange for Tribal lands forfeited. The 574 federally-recognized sovereign Tribal nations are part of the U.S. family of governments that have a nation-to-nation relationship with the federal government as a part of the trust relationship.
"For Native Americans, seeing people who look like us and are from where we come from in some of the highest elected and appointed offices in the U.S. demonstrates inclusion. Indian Country finally has a seat at the table. The gravity of this position is not lost on Haaland, and I expect that she will make a difference for all Americans," said AIPI Executive Director, Dr. Traci Morris.