AIPI Launches Indigenous Leadership Academy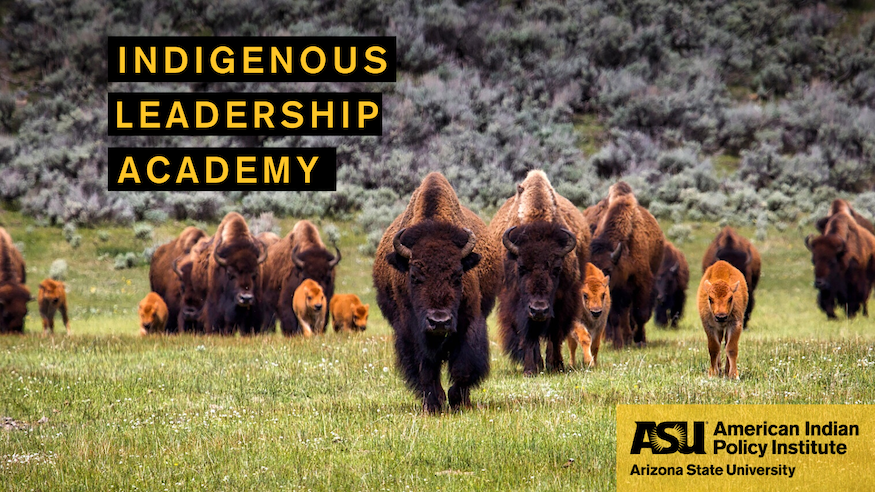 The American Indian Policy Institute (AIPI) is proud to announce the creation of the Indigenous Leadership Academy (ILA) under the leadership of Traci Morris, Ph.D. (Chickasaw Nation). This new initiative is in partnership with the ASU Office of Government & Community Engagement, and with seed funding from Arizona Public Service (APS). The Indigenous Leadership Academy will support emerging Indigenous leaders in expanding their knowledge, skills, and networks to address public policy issues and engagement in the Tribal government, non-profit, and private sectors.
Tribal governments, communities, nonprofits, and enterprises have challenges and objectives that differ from non-Indigenous entities. Today's emerging leaders must know how to navigate the challenging environments and changing landscapes facing Tribal communities. These skills are particularly relevant due to the status of Tribal nations as sovereign nations within a nation. The COVID-19 pandemic has exposed major structural challenges in Tribal communities, and has highlighted the need for new models of understanding the future of "Indigeneity" in leadership.  The ILA will provide program participants with the opportunity to explore these issues, and establish pathways that translate to positive impact for Indigenous people in urban and reservation communities.
The Indigenous Leadership Academy offers a nonpartisan approach that strives to increase the number of Indigenous leaders that can collaboratively work to bridge differences and build consensus on solutions that advance the quality of life for Indigenous people throughout the state, with the potential to expand to a national model.
Participants will benefit from some of the top faculty, industry professionals, and Tribal leaders with the skillset to apply these real-world principles in the workplace and community. 
To learn more about the ILA, please join our mailing list here.
Read the ILA full press release here