What Rutherford Falls Taught Me About Being a Native Young Professional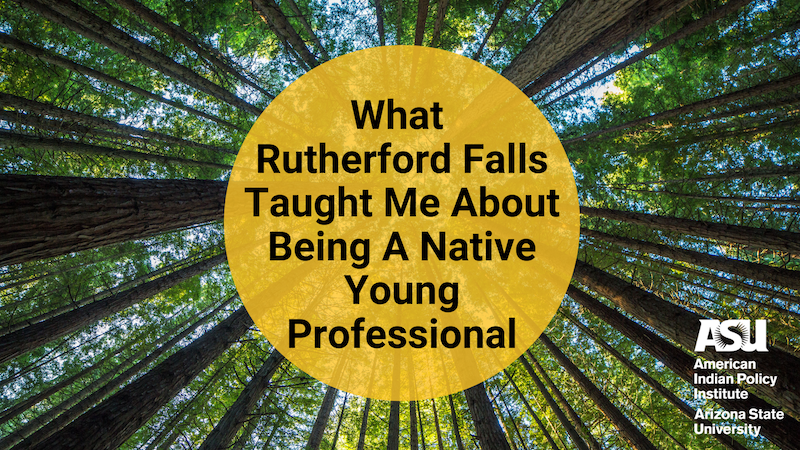 Like the rest of Indian Country, I was excited when I saw the trailer for Rutherford Falls. What initially stood out to me is that the show takes place in the present day. This represented a welcome change from the way I'm used to seeing Native Americans represented in mass media. Unlike other forms of Native representation, Rutherford Falls illustrates the modern Native American experience in all its complexity. By developing a wide range of characters, the show works to diminish the one-dimensional way Native Americans are generally portrayed: either in Western films and TV shows, or as people who are only defined by our historical trauma.
 Just when I thought I couldn't be more excited, through good fortune I was able to tune in to a discussion and viewing of the pilot episode with the cast, which was facilitated by the non-profit, IllumiNative. From the discussion it was obvious that the cast poured their heart and soul into the production of the show. I felt a deep sense of kinship and familiarity with the cast as they talked about the jokes, phrases, and experiences that are common in our communities—all of which they beautifully worked into the show.
 Of course I binge-watched the rest of the series, and in each episode I saw different aspects of my personality in the characters. As a burgeoning policy professional, Terry Thomas (Plains Cree actor Michael Greyeyes), the CEO of the Running Thunder Casino especially stood out to me. Here are three lessons I learned from his dynamic character:
1. No Matter Your Accomplishments, Stay Humble and Don't Forget Where You Come From
 In episode 2 (Buckheart Lodge), Terry has a frank conversation with Reagan Wells (Lakota actress Jana Schmieding), who runs a cultural center in the casino. In a no-nonsense way, he bluntly asks her how many hours she spent pursuing her education, and questions why she is willing to "do all that work out there, but not here" in her home community. That simple phrase served as a powerful reminder to remember my roots, and why I am committed to my work. It can be easy to get caught up in the hustle and bustle of city life, attending conferences, networking, and listening to legislative sessions. Although my professional work is extremely important to me, I am also compelled to remember that as a Native community member, I must always be willing to step in and help. 
2. Do Not Let Others Define Your Indigenous Identity
Episode 4 (appropriately named Terry Thomas) is a classic origin story episode. You see moments that defined Terry's life and placed him on the trajectory towards a life of service to his people. As he reflects on his upbringing  during an interview with the reporter Josh Carter (Dustin Milligan), Terry is asked if working for a casino (seen as the epitome of capitalism) conflicts with his cultural identity. This scene is something I am all too familiar with. In his response, Terry is poised and confident. He makes it clear that working for the casino does not make him any less Native American, and that his work has always been to serve his people. This was a very cathartic scene because I've spent my young adult life trying to defy other's misconceptions about what a Native American looks like or should be. Terry's words give me the confidence to continue asserting myself, and that warped and inaccurate perceptions about Native people should not be how I define myself as a Native young professional or a Diné Aszáán (Navajo woman). I know who I am because I have thousands of years of traditions, stories, and ancestral wisdom to guide me as I develop throughout my professional career. 
3. Walking in Two Worlds is a Lifelong Balancing Act
This wasn't explicitly addressed in just one episode, but was a recurring theme throughout the series. I remember going through college, grad school, and even starting my professional career where I assumed that one day I would no longer have to navigate the labyrinth that is maintaining my distinct cultural identity while working in the dominant non-Native society. As I watched Terry at work, in his community, or at home with his family, I realized that this balancing act is a life-long process that I will never have all the answers to. What is important is that I stay true to who I am and the values I was raised with. If I am my authentic self, the right people, and the right professional spaces, (such as my incredible job at the American Indian Policy Institute), will find me. 
I'd like to extend a Ahéhee' (thank you) to Illuminative for hosting the Rutherford Falls Watch Party, and the cast of Rutherford Falls for creating this incredible project that tells our stories. On a final note, a huge Ahéhee' to Michael Greyeyes for developing such a strong, multifaceted character who I can continue to draw inspiration and introspection from. I wish you all great success, and may you all walk in beauty. 
Hágoónee' (goodbye).