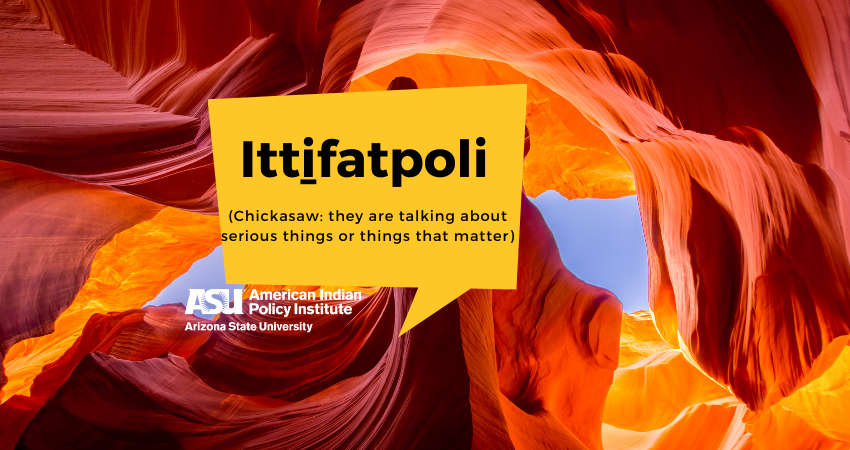 Have you read our mission statement lately?  Let me share it with you.
The American Indian Policy Institute is an Indigenous-led and staffed research institute at Arizona State University, whose work supports Tribal communities and Indigenous peoples nationwide. We do this by creating academic research and by analyzing and developing policy on the key issues in Indian Country, and by building capacity within an ecosystem of lifelong learning.  
AIPI's expertise and focus is substantively on broadband technology and digital equity, with expertise in tribal telecommunications, communications policy, and newly emerging systems as they impact sovereign Tribal nations.
Our mission statement is what guides our work.  Let's break it down.  AIPI creates academic research on indigenous issues; this month AIPI's Research Professional submitted an article for publication in addition to continuing work on another article on broadband mapping for release later this year. AIPI creates analyses and develops policy recommendations on key issues in Indian Country; this month AIPI's Policy Analyst and Policy Research Assistant released two important documents in addition to the monthly policy updates. AIPI is building capacity within an ecosystem of lifelong learning; this month we are midway through our first cohort of the Indigenous Leadership Academy.
We share all this work and information with the university community, tribal leadership, community leadership, students, and other stakeholders via publications, presentations, public lectures, and in the press.
Keeping us fiscally responsible and in check with our grant requirements is our new Associate Director, Dr. JoAnn di Filippo. You can read more about her background on our website. Dr. di Filippo has worked for AIPI for seven years in various capacities, but we're pleased to have her support in this new role.
As Always,

#BeTheSolution