The 2022 Reauthorization of the Violence Against Women Act: A Space for Celebration, Learning, Support & Growth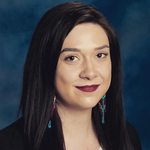 Sadie Vermillion
Policy Research Assistant
April is Sexual Assault Awareness Month (SAAM). The American Indian Policy Institute (AIPI) closely follows public policy analysis and research surrounding the systemic violence suffered by Indigenous women. In recognition of SAAM, AIPI would like to take some time and space to discuss the recent 2022 reauthorization of the Violence Against Women Act (VAWA) and its projected effect on Indigenous communities. The reauthorization of VAWA reaffirmed the critical legislative focus on the domestic violence, sexual assault, dating violence, and stalking faced by Indigenous women in the United States. In a constant effort to destigmatize the disproportionate representation of violence against Indigenous women, this blog aims to create a safe space for acquiring knowledge, awareness, and attention to urgent concerns regarding Indigenous women's safety and ability to fully flourish as invaluable members of their communities.
In the United States, sexual victimization among Indigenous women is a direct product of the long-standing colonization and genocide of Indigenous peoples. Resistance and redress of this victimization through cultural and legal resources are of utmost importance. The 2022 reauthorization of VAWA assists in the ability to achieve this. Indigenous communities have long advocated for sovereignty over their own lawmaking. Personal experiences and adept knowledge are critical in confronting community-specific concerns accurately. The reauthorization's Tribal Title language and content of the writing was led by the Senate Committee of Indian Affairs and included Indigenous women and advocates who worked collectively to ensure that such experiences and knowledge went into the reauthorization process. There were more than a few major achievements within the reauthorization. Listed below are only a select few:
The 2022 VAWA reauthorization Tribal Title –
Maintains special Tribal criminal jurisdiction (STCJ) over crimes of dating violence, domestic violence, and violations of Tribal civil protection orders first put in place by the 2013 Violence Against Women Act (VAWA) reauthorization;

Restores STCJ over crimes related to child violence, sexual violence, sex trafficking, stalking, obstruction of justice, and assault of Tribal justice personnel;

​​Removes the existing requirement under VAWA 2013, which limits tribal jurisdiction to those non-Indians who live or work in the Indian country of the tribe or are in a qualifying relationship with a member of the tribe or non-member Indian resident (often referred to as the "substantial ties" provision);

Ensures Indian Tribes in Alaska and Maine are able to exercise STCJ and keep their communities safe; and

Provides Indian Tribes with improved access to critical STCJ resources by—

Increasing the authorization level of the VAWA Special Tribal Criminal Jurisdiction implementation grant program from $5 million per fiscal year to $25 million per fiscal year,

Expanding the VAWA Special Tribal Criminal Jurisdiction implementation grant program to cover Tribes' reimbursements costs,

Reestablishing the Bureau of Prisons Tribal Prisoner Program, and

Codifying the Department of Justice's Tribal Access Program to provide Tribes with access to national criminal information databases.
As Indian Country celebrates the steps being taken by the VAWA 2022 reauthorization, it remains important to continuously consider further steps to be taken to combat violence against Indigenous women and Indigenous communities as a whole. There must not be an interruption of the important dialogue on what exploits Indigenous peoples and their exposure to violence. Examination of ever-changing social dynamics in relation to topics such as property crimes, cyber-violence, financial abuse, elder abuse, and violence against all gender identities will be critical as this fight continues.
As Indigenous peoples, we must continue to challenge the factors which seek to exploit us, as we have done for time immemorial.
For other VAWA 2022 resources, please review:
If you or someone you know is suffering from domestic violence, sexual assault, dating violence, or stalking, please visit the following resources: