ILA: Inaugural Program Synopsis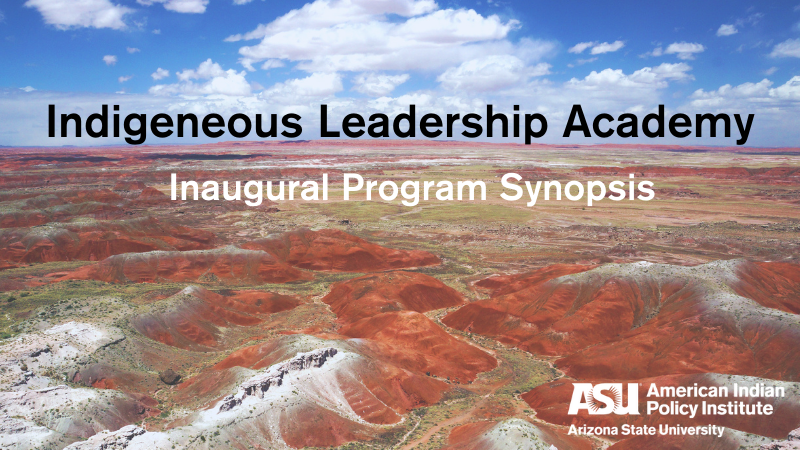 Saturday, March 26, 2022, marked the closing of the American Indian Policy Institute's (AIPI) first-ever Indigenous Leadership Academy (ILA). A bittersweet conclusion to a historic inaugural program, the cessation of ILA will leave a gap in AIPI's weekly activities and those of us at AIPI will eagerly welcome the next cohort coming in the Fall of 2022. Although observing the completion of such a vigorous and successful program is a difficult task, there is now time for reflection on lived experiences and observations, which will in turn allow for continuous growth and advancement in what is a prominent Indigenous leadership program, now and in the future. As those of us at AIPI begin our deep reflections and review of our time at ILA, we would like to share with you a module overview of the first-ever ILA cohort. Throughout the course of 9 weeks, 10 distinct modules took place. Within each module, a series of resources including handouts, readings, presentations, peer mentor discussions and guest speakers were at the hands of and experienced by the cohort. The following list reviews the topics of each module. 
Module 1: Indigenous Leadership Practices 
Module one allowed for the cohort to create an understanding of different leadership styles and perspectives by surveying a multitude of Indigenous leadership frameworks including one another. Module one also began the project that would follow the cohort throughout ILA. The cohort was charged with creating an idea for a project or program that could be developed throughout the program. 
Module 2: Understanding Political and Economic Contexts in Indian Country
After an introductory module on leadership styles, module two was able to build upon complex understandings of leadership and what the political and economic contexts in Indian Country mean for Indigenous leadership. Throughout their peer mentor discussions, the cohort was able to discuss and flesh out what differing approaches to Tribal sovereignty and Native nation-building means to separate leaders. 
Module 3: Research, Data, and Indigenous Knowledge
Module three was innovating and exciting. The cohort was confronted with understanding the challenges that come with Indigenous research and data as well as how research and data (when accurate) can be used as a successful tool for Indigenous leadership in terms of sovereignty. Additionally, during this module, the cohort was able to identify how research and data could assist their project or program idea that they came up with during the first module. 
Module 4: Innovation and Sustainable Enterprise-Building
Module four brought forth ideas on how Indigenous business frameworks and doing business on Tribal lands can affect the way in which Indigenous leaders think and operate. Advantages and disadvantages of these scenarios were discussed and a strength, weakness, opportunity and threat (SWOT) analysis was administered to the cohort's project or program ideas. 
Module 5: Response and Responsibility
Module five was of utmost importance while further developing the cohort's leadership skills. Response and responsibility is vital within Indigenous communities, whether you are a leader or not. In this module, the cohort discussed relational decision-making, connecting values with goals and purpose and what it means to exercise responsibility in Indigenous communities. 
Module 6: Communicating Your Story and Exhibiting Professional Etiquette
Module six allowed for attention to be paid on external factors that may affect Indigenous leaders. The cohort considered different channels of communication, how to communicate across different mediums and to different audiences and how culture affects etiquette norms and in turn, communication styles. This information helped the cohort to create a anecodotal narrative around their project or program. 
Module 7: Building Relationships and Growing Your Network
Module seven encompassed tools and techniques for prosperous partnerships and collaborations. A focus on networking developed and the cohort formulated a personal networking plan for their project or program. 
Module 8: Bridging Differences and Fostering Consensus
Module eight called for building understanding and consensus in the face of differences. The importance of compromises and agreements was stressed, especially in the context of Indigenous communities. Peer mentor groups continued the discussion by elaboration on personal examples where there was intentional effort to build consensus.
Module 9: Community-Centered Management Practices
Module nine created space for the discussion of differing approaches on engaging communities. From a unique Indigenous perspective, the cohort was asked to identify how traditional ways of knowing and doing can be applied to community-centered management practices. This module also allowed the cohort to create a stakeholder analysis and communication plan for their project or program. 
Module 10: Developing Leadership Capacity and Looking to the Future
The final module of the inaugural ILA, which was held in-person, concentrated on the next steps for each Indigenous leader's progress. After a conversation on how global economic shifts have created a "power moment" for Indigenous Peoples in the U.S., the cohort was asked to identify their thoughts about the concept of Indigenous Peoples living in "two worlds" and what this means in relation to their personal leadership experiences. Finally, the cohort was tasked with concluding their time in ILA by generating an approach to sustaining their project/program and developing their leadership story. 
Ten dense and enriching modules, invaluable resources, and an inspiring group as the inaugural cohort made for an unforgettable Indigenous Leadership Academy. As ILA cohort member, Kevin Felix stated: "As someone who is coming from a non-tribal utility company the Academy provides me a space to seek how partnerships can be made with tribes over common goals such as STEM education outreach and workforce development. I think the Academy so far is providing us with problem solving pathways that are taught by Indian policy experts to foster innovation for the future benefit of indigenous people." 
AIPI will continue to contemplate what an incredible experience this was and will share more about this exciting program in the coming weeks. Follow along with AIPI for upcoming blogs, posts and everything else ILA.