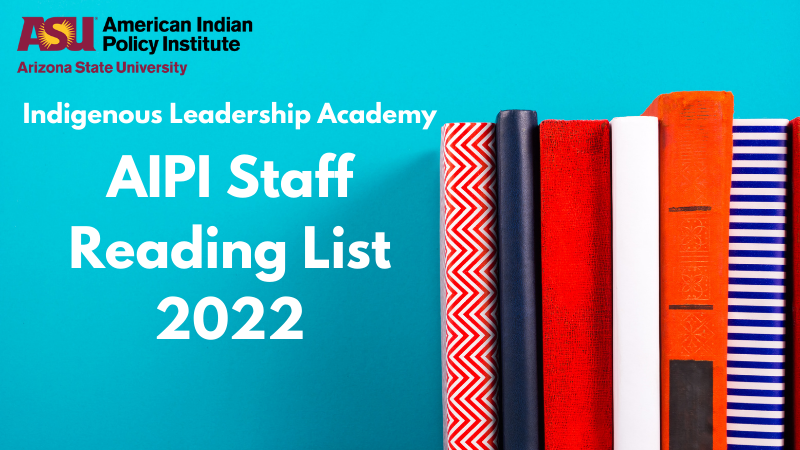 We are getting ready for the second cohort of the ILA program! Please follow us for updates on application information. 
My next blog post deadline was coming soon… I could not for the life of me think of a proper topic. Graduation? Leadership? Business? I went for a walk where I do my best thinking, and inspiration struck! May is Get Caught Reading month which highlights the opportunity to raise awareness of the advantages of indulging in literature. I thought, what better way to feature the advantages of literature than to tap into the minds of the staff at the American Indian Policy Institute (AIPI). I admire and respect the people I work with because they are all such different individuals with different experiences, and we're here working together for the same cause. I threw the idea out to my team and they were immediately on board. 
For this blog, I, along with my brilliant coworkers at AIPI, are guiding this reading list. I asked for two books which had an impact on their journey, there are no parameters. Indigenous people are inherent storytellers and through the power of reading we continue to carry on that tradition. When possible, I will link it to Arizona State University libraries. So for this reading list we hope you GET CAUGHT READING!! 
AIPI Staff Reading List 2022
Beth Santistevan- Policy & Communications Program Coordinator
The Utes Must Go! by Peter Decker 
"I chose this book because of the integrated picture of the time period and figures involved. As a Southern Ute I think this is the most accurate account of the removal and colonization of my people from Colorado, New Mexico and Wyoming. Overall I think it gives insight to better understand the politics and ideologies that led to removal across the West." 
Physical access: Click here to view the book at the ASU library
Scary Stories To Tell In The Dark by Alvin Schwartz
"I grew up on the rez and we were always outside playing and we would often tell scary stories to keep ourselves entertained. This book was always checked out at the library, and the stories sounded like the ones we told each other. Some were scary, some funny but the illustrations stay creepy! I'm still a horror fan to this day!"
Physical access: Click here to view the book at the ASU library
EJ John- Policy & Research Analyst
Walden by Henry David Thoreau
"It's a nice reminder that there is a lot of life to experience and learn from through our seemingly mundane daily chores and activities."
Physical & electronic access: Click here to view the book at the ASU library
Hop Class as Soulcraft: An Inquiry into the Value of Work by Matthew B. Crawford 
"This is a book that helps to frame our big ideas into their practical effect on our reality. It's easy to get caught up in the theoretical discussions behind policy and sometimes we forget about the overall goal of the work we do." 
H Trostle- Research Professional 
My Body is a Book of Rules by Elissa Washuta
"This memoir follows a Cowlitz woman through college and beyond as she heals from current and historical trauma. The journey takes her through psychiatrists' offices and many failed medications as she learns to accept mental illness. This book has graphic content including sexual assault and alcohol use." 
Physical & electronic access: Click here to view the book at the ASU library
Psycho Nymph Exile by Porpentine Charity Heartscape
"I love this book: It is set in a futuristic world, and a woman becomes a pilot for a biomechanical suit where she must confront the horrors of war and loss of bodily autonomy. The book follows her relationship with her girlfriend as together they grapple with a post-apocalyptic world."
Kristen Talbert- Indigenous Leadership Academy Project Coordinator
Beloved Child by Diane Wilson
"The release of the Federal Indian Boarding School Initiative Investigative Report is a difficult report to read. Beloved Child is a reminder that our communities love our children and it highlights the work that Dakota and Ojibwe people are doing to fix that which was broken." 
Physical & electronic access: Click here to view the book at the ASU library
Pedagogy of the Oppressed by Paulo Freire
"I read this book in undergrad and found it so powerful that I read it twice. I am currently re-reading this book because I don't want to forget anything!" 
Electronic access: Click here to view the book at the ASU library
Dr. Traci Morris, PhD- Executive Director
Strategic Doing: Ten Skills for Agile Leadership by Morrison, Hutcheson, Nilsen, Fadden and Franklin
"This book is interesting because it's applied leadership for leading diverse teams in solving "wicked problems". Many of the steps involved in leading teams are intuitive and geared toward leading teams towards innovative solutions."
Electronic access: Click here to view the book at the ASU library
Recovering Ancient Spiro: Native American Art, Ritual, and Cosmic Renewal Eds. Singleton and Reilly III.
"As a Chickasaw Nation citizen, I'm very interested in Southeastern Native American art as this is the art of my ancestors. I find the works depicted in the book powerful and inspiring."