The Importance of ICWA Foster Homes: A Personal Account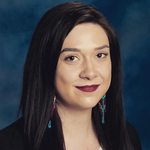 Sadie Vermillion & Kristen Talbert
Policy & Research Analyst; ILA Program Coordinator
*Editor's Note: This article was a collaboration between AIPI Policy & Research Assistant Sadie Vermillion and ILA Program Coordinator Kristen Talbert.
Removal of American Indian children from their homes by both public and private entities has long been a commonplace experience in Indian Country. According to the National Indian Child Welfare Association (NICWA) website, "The Indian Child Welfare Act (ICWA) was enacted in 1978 in response to a crisis affecting American Indian and Alaska Native children, families, and tribes. Studies revealed that large numbers of Native children were being separated from their parents, extended families, and communities by state child welfare and private adoption agencies. In fact, research found that 25%–35% of all Native children were being removed; of these, 85% were placed outside of their families and communities—even when fit and willing relatives were available.
ICWA set federal requirements that apply to state child custody proceedings involving an American Indian child who is a member of, or eligible for membership in, a federally recognized Tribe. ICWA also allows for the transfer of American Indian child welfare cases into Tribal court. Since its inception, ICWA has made a significant impact on the way in which courts handle American Indian child removal. Congressional testimony has documented the devastating impact American Indian child removal was having upon Native children, families, and tribes. The intent of Congress under ICWA was to "protect the best interests of American Indian children and to promote the stability and security of American Indian tribes and families (25 U.S.C. § 1902)."
One aspect of the American Indian child removal process is foster care. Foster care, or a temporary government-provided service that allows children who are unable to live at their home in its current situation to live with relatives or foster parents outside of their home. This can be a critical step in ultimately reuniting American Indian children with their families. May is National Foster Care Awareness Month and in honor of that, the American Indian Policy Institute (AIPI) would like to take the opportunity to discuss the significance of foster care in American Indian Country and ICWA from both a personal and general standpoint. In the following paragraph, Kristen Talbert, AIPI's Indigenous Leadership Academy Program Coordinator, illustrates her personal experience with foster care and ICWA. Kristen's personal experience contributed greatly to her insight and understanding while collaborating on this blog.
Kristen explained, "Growing up, my home was one of two ICWA foster homes licensed by Hennepin County in Minnesota. My parents, Charles and Kathy, were foster parents and during their 9 years as foster parents and 5 years as shelter parents, they had 320 children come through their home. Because of how I was raised, foster care and ICWA are two things I hold close to my heart. I eventually became the ICWA compliance monitor for Ramsey County in Minnesota. My upbringing along with that job opened my eyes to the child welfare system. My sister, Tara Bruening, is the ICWA Guardian Ad Litem Coordinator, for the first, second, third, and fifth districts for Family and Juvenile court in Minnesota and a Community Trainer on ICWA. I think my upbringing positively affected American Indian children because we were able to provide a calming, safe environment for Indigenous youth to process what was going on. On our end, as the children of the caregivers, it made us more understanding of others' situations."
A recurring and significant issue in instances of American Indian child removal and the foster care system is the social workers and foster parents involved are more often than not non-American Indians. Relevant cultural knowledge and experience is paramount to creating a safe and informed environment for American Indian foster children. Without this frame of reference, foster parents simply do not have the ability to understand their foster children's identities in a learned and comprehensive manner. Resultantly, the American Indian foster children suffer from loss of their culture and instead have other cultures imposed upon them.
ICWA has placement preferences employed to help mitigate this issue. According to the guidelines of ICWA, preference starts with a relative placement, then a Tribal placement, and lastly with an American Indian placement. These preferences are in place to ensure the preservation of ties to a child's family and culture while in foster care. To further assure that ICWA placement preferences are adhered to, many Tribes are taking foster care licensing into their own hands by doing the foster care licensing themselves instead of relying on outside agencies.
Success rates for Tribal applicants looking to become licensed foster parents through the licensing of the county's agencies is considerably lower than that of their non-American Indian counterparts. As a result, Tribes are stepping in with their own licensing agencies. Kristen and Tara have experienced in Minnesota, for example, more and more American Indian families are being licensed through the Tribes. Tribal-licensing has helped to make progress in the availability of ICWA placement preferences and therefore, has improved the overall well being of American Indian foster children.
As mentioned previously, AIPI also had the opportunity to speak with Tara Bruening, another individual who is notably familiar with ICWA and the foster care system through both professional and personal experience. Tara expounded, "Foster care is there to keep the kids safe while their parents get better. This is temporary, it's supposed to be temporary and not a long-term thing." Along that line of thinking, it only makes sense that the American Indian children are placed in an American Indian foster home.
Once a Tribal individual is licensed to become a foster parent, the barriers to successfully caring for American Indian children do not stop there. Being a foster care parent presents a myriad of responsibilities including but not limited to, required informational trainings and classes for both parents and children, visitation time with biological parents, required home alterations, healthcare visits, etc. Moreover, foster parents will often be faced with managing previous trauma experienced by their foster children. As Kristen and Tara's mom, Kathy, states, "Foster parenting is like being a soft, cushioned, bed with a warm comforter on it. These children are coming from trauma and I wanted to ensure that they landed safely in their new, temporary home." Resources such as access to reliable internet for virtual appointments, easy access to transportation, flexibility in scheduling and access to mental health support are critical to continuing to ensure that a foster care environment can be successful for both the parent and the child.
There is still much work to be done to ensure the safety and wellbeing of American Indian children in foster care. The many facets and concerns surrounding ICWA and American Indian child removal could be endlessly discussed. American Indians must continue to look toward the future and protect their right as a politically sovereign group to make decisions on what is right for their children. They are the future generations of leaders who will continue to champion our culture.
For more information and additional resources on ICWA and foster care, please visit: