An Indigenous Approach to Mental Health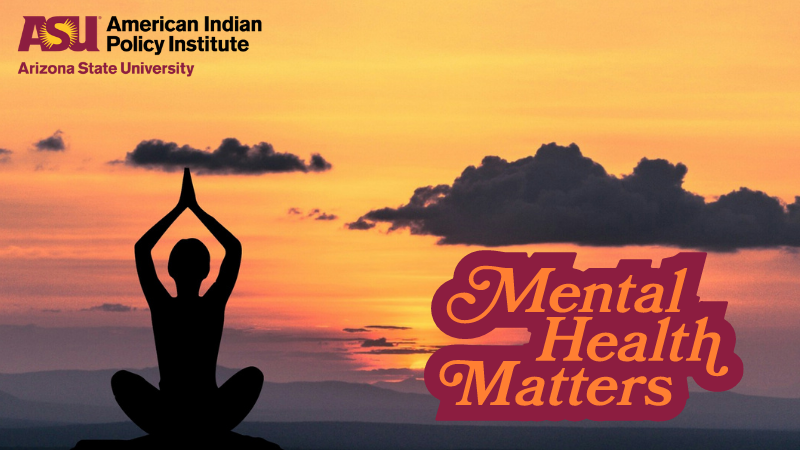 This month, we celebrate the resilience of all those who live with mental illness and those who have passed on after battling mental illness. Among other mental health concerns, the COVID-19 pandemic has been shown to increase stress and depression.  I am a Two-Spirit person living with bipolar and anxiety. I have acutely experienced the impact of the pandemic. I offer my story today to frame a discussion of mental health resources and Indigenous approaches to mental health.
It's 2022; I am 28 years old and have been struggling my whole life with the aforementioned conditions. For me, these mental health issues came with suicidal thoughts and alcohol use. The fact is, suicide was the second leading cause of death for American Indian/Alaska Native young people between 10 and 34 years old in 2019. Two-Spirit and Indigenous LGBTQ youth (ages 13 - 24) are 2.5 times more likely to have a suicide attempt in the past year than non-Hispanic white youth. The overall death rate from suicide is 20 percent higher than for non-Hispanic white communities. I spent most of college with a misdiagnosis of depression, and I took many pills that did not work or actively made my mental health worse. 
It took until 2017 for me to receive a bipolar diagnosis. My alcohol use was starting to impact my friends and roommates; they pushed for me to look into mental health resources. With my family unaware of my problem, I decided to search for help. It can be extremely difficult to navigate healthcare systems while you suffer from an untreated mental illness. I found a psychiatrist who was knowledgeable on mental health and Indigenous issues. She ran genetic tests to figure out which pill would work for me because she said that intergenerational historical trauma affects how American Indian/Alaska Native people respond to medication. 
In addition to medication, I began to focus on my journey of reconnection to my culture. I am a citizen of the Cherokee Nation, but I grew up away from Cherokee ways of life and teachings. To Indigneous communities, culture is grounding, it is a part of our belief systems, our survival. The Trevor Project said in their study of Indigenous youth:
 "[American Indian/Alaska Native] suicide prevention experts have called for "reaching back into the root system of our people," and drawing on spiritual and cultural strengths as a powerful protective factor (Heart of the Hawk Ali, 2020; Yellow Horse Brave Heart et al., 2011)."
I leaned on resources which highlighted the importance of culture to stop my alcohol use . I read about the "Red Road" to sobriety, I went to the Cherokee Nation's Cultural Outreach webinars on spirituality and mental health. Indigenous approaches to mental health are holistic, spiritual, and culturally-grounded.
Even with all of these support systems, throughout this COVID-19 pandemic I have struggled. The isolation, fear, and death took its toll on my mental health. My medications had to be adjusted, and I had to build up new support systems, many online. Online support systems and online mental health resources are not an option for many people in Indian Country because of the lack of Internet connectivity. But there are opportunities to help even without Internet access: