Thought Leaders Fellows Program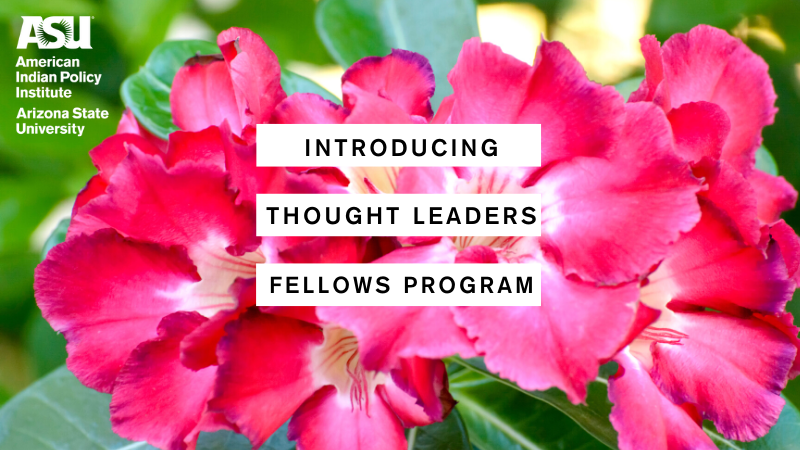 For 2022-2023, the American Indian Policy Institute is grateful to announce the renewal of the inaugural cohort of the Thought Leaders Fellowship Program (TLFP). This year's cohort welcomes back three Faculty Affiliates, Denise Bates Ph.D., Angela Gonzales Ph.D., and  Stacy Leeds J.D.. "I am very impressed with the high-caliber cohort AIPI has created for our first Thought Leaders Fellowship Program," said AIPI Executive Director Traci Morris, Ph.D. "We are pleased to have them back and we look forward to further development and a continued collaborative learning environment where our research and knowledge is shared with and informed by Native communities."  The fellowship cohort is both a space to further Indigenous research while embracing traditional forms of knowledge.
Bates stated, "This program not only reflects ASU's stated commitment to supporting tribal nations in achieving futures of their own making, but centralizes Indigenous knowledge systems and practices in a meaningful way. As a community-engaged historian, this program provides a tremendous opportunity for learning, innovating, and contributing." Dr. Bates was the curriculum writer for the inaugural cohort of the Indigenous Leadership Academy and has agreed to the same role for this Fall's cohort.  
Angela Gonzales, is a citizen of the Hopi Tribe and ASU faculty, "The work of AIPI is critical to helping advance and support tribally-driven research to address issues and concerns of tribal communities and their members," said Gonzales. "The program creates a unique space to support contributions to Indigenous knowledges within and beyond the academy." Gonzales mentioned the Thought Leaders Program provides an opportunity to apply her training as a sociologist and community-engaged researcher, "engaging with AIPI staff, tribal leaders, and other Fellows to...inspire innovative ideas to collaborate on respectful, relevant, Indigenous-formed and -led research that promises positive and critically needed change to policy, practice, community, and cultural life." The Indigenous Leadership Academy was honored to have Gonzales as a moderator for the first cohort of the program. 
Recipient Stacey Leeds (Cherokee) commended AIPI's cutting edge innovation,"the Thought Leaders Fellowship Program builds on AIPI's national reputation as a gathering place for Indigenous professionals." Leeds added that she was honored to be a part of the first cohort,"TLFP offers a space where we can both support and challenge each other as we seek Indigenous solutions for pressing societal needs." Leeds was a guest speaker for "Module 2: Understanding Political and Economic Contexts in Indian Country" for the first ILA program.