Former AIPI Student Worker Christina Haswood Running for State Office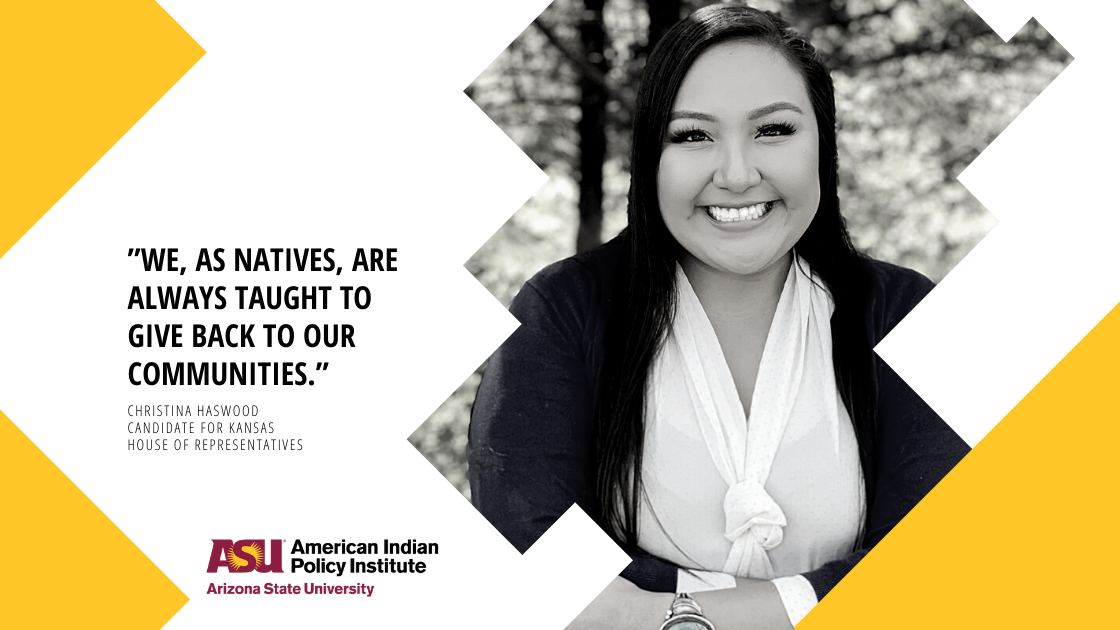 [UPDATE]
This post was originally published June 8, 2020. Yesterday, August 4, Christina won her primary election in Kansas! Now running unopposed, she will become the youngest member of the Kansas State Legislature and only the third Native American in its history! Congratulations, Christina!
---
The American Indian Policy Institute is proud to see that Christina Haswood, a former AIPI staff member, is now running for public office in Kansas. 
Haswood (@HaswoodForKS) is running for the Kansas House of Representatives in District 10, which includes Baldwin City and southeast Lawrence. Haswood, Diné, was born and raised in Lawrence, where she attended Lawrence High School and Haskell Indian Nations University. She later attended Arizona State University, where she graduated with a degree in public health. 
While at ASU, Haswood worked for AIPI from October 2016 to May 2018, nearly two years. She worked on our TFMC training twice a year with NAFOA, and she did research for our Inno-NATIONS project, creating a national directory of existing American Incubators in the nation and on tribal lands. 
"AIPI was my home for nearly two years during my undergrad at ASU. I learned professional and research skills that carried into my MPH degree and now my new journey into politics. Not only was I able to use these skills to give back to Native communities, but I also gained a strong support system that encouraged me past my time at ASU," she said in an email to AIPI. 
Haswood recently graduated with a Master of Public Health Management from the University of Kansas Medical Center. She currently works for the National Council of Urban Indian Health and the Center for American Indian Community Health. Her work includes investigations of issues such as nicotine addiction among Native youth and the effect of COVID-19 on Native populations. As a public health professional, she hopes "to bring public health expertise to state government during a time of unprecedented crisis," according to her website.
"We, as Natives, are always taught to give back to our communities and as an Urban Native, I come from two communities: on the Navajo Nation and in Lawrence, KS," said Haswood. She feels that this is her chance to give back to her hometown community in Lawrence. She has already secured the endorsements of Lawrence Mayor Jennifer Ananda, four current state representatives, and Kansas State Rep. Eileen Horn, who previously held the seat Haswood is now running for. 
"[We] need systemic change now," said Haswood, "and I believe my experiences, education, and passion will make me a great leader." If elected, Haswood, 26, would become the youngest member of the Kansas State Legislature and only its second current Native American. According to the Lawrence Journal-World, she would be only the third Native American in the state legislature's history.