ILA Summer Reading List 2021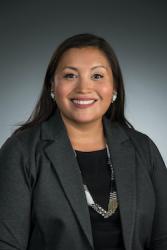 Kristen Talbert
ILA Project Coordinator
The American Indian Policy Institute is creating an Indigenous Leadership Academy. Sign up for our email list to get the most up to date information!
A passion of mine is reading. I have an ever growing list of books to read and if you suggest a book to me, I'll add it to my list if I haven't already read it. Because of that, I partnered with Alex Soto at the Labriola National American Indian Data Center (Labriola) at Arizona State University (ASU) Library to compile a list of ten books that we felt were important on the topic of Indigenous leadership. The parameters I set were that there should only be 10 books (this is a summer reading list after all), that no book should cost more than $40, and the books should focus on different areas on Indigenous leadership. Alex added the topics, a list of books, and gave me a tour of the Labriola Center at ASU.
As you can imagine, Alex and I came up with a list much larger than 10 books. We actually created a list of close to 50 books! Because we had so many books and excellent topics we wanted to share, we decided to do five different blog posts with a list of ten books for each. For the summer reading list we decided to go with a focus on Indigenous leaders through memoir, autobiography, and biography. Whenever possible, we link the books to the publisher and the Labriola Center, some of which are available through Open Stack. The books are presented in no particular order. My personal favorite is Mankiller. It beautifully ties in the history of the Cherokee people with the life of Wilma Mankiller and speaks so candidly about the joys and hardships of life. Happy reading!
Summer Reading List 2021:
Physical: Click here to view the book at the ASU library
"Invoking hope, healing and forgiveness, The Reason You Walk is a poignant story of a towering but damaged father and his son as they embark on a journey to repair their family bond. By turns lighthearted and solemn, Kinew gives us an inspiring vision for family and cross-cultural reconciliation, and a wider conversation about the future of aboriginal peoples." Source: Penguin Random House Canada
The Tao of Raven An Alaska Native Memoir
Physical: Click here to view the book at the ASU library
"Using the story of Raven and the Box of Daylight (and relating it to Sun Tzu's equally timeless Art of War) to deepen her narration and reflection, Hayes expresses an ongoing frustration and anger at the obstacles and prejudices still facing Alaska Natives in their own land, but also recounts her own story of attending and completing college in her fifties and becoming a professor and a writer. Hayes lyrically weaves together strands of memoir, contemplation, and fiction to articulate an Indigenous worldview in which all things are connected, in which intergenerational trauma creates many hardships but transformation is still possible. Now a grandmother and thinking very much of the generations who will come after her, Hayes speaks for herself but also has powerful things to say about the resilience and complications of her Native community." Source: University of Washington Press
A Two-Spirit Journey The Autobiography of a Lesbian Ojibwa-Cree Elder
Physical & electronic access: Click here to view the book at the ASU library
"A Two-Spirit Journey is Ma-Nee Chacaby's extraordinary account of her life as an Ojibwa-Cree lesbian. From her early, often harrowing memories of life and abuse in a remote Ojibwa community riven by poverty and alcoholism, Chacaby's story is one of enduring and ultimately overcoming the social, economic, and health legacies of colonialism." Source: University of Manitoba Press
Creating Space My Life and Work in Indigenous Education
Physical & electronic access: Click here to view the book at the ASU library
"Verna J. Kirkness grew up on the Fisher River Indian reserve in Manitoba. Her childhood dream to be a teacher set her on a lifelong journey in education as a teacher, counsellor, consultant, and professor… Like a long conversation between friends, Creating Space reveals the challenges and misgivings, the burning questions, the successes and failures that have shaped the life of this extraordinary woman and the history of Aboriginal education in Canada." Source: University of Manitoba Press
Carlos Montezuma and the Changing World of American Indians
Physical & electronic access: Click here to view the book at the ASU library
"Carlos Montezuma (1866-1923) was one of the great Native American crusaders for Indian rights in the early twentieth century. This biography by an authority on Southwest Indian history tells a dramatic story that sheds light both on Montezuma's career and on the movements he influenced." Source: University of New Mexico Press
Physical: Click here to view the book at the ASU library
"In this spiritual, moving autobiography, Wilma Mankiller, former Chief of the Cherokee Nation and a recipient of the Presidential Medal of Freedom, tells of her own history while also honoring and recounting the history of the Cherokees. Mankiller's life unfolds against the backdrop of the dawning of the American Indian civil rights struggle, and her book becomes a quest to reclaim and preserve the great Native American values that form the foundation of our nation." Source: Birchbark Books
Brummett Echohawk: Pawnee Thunderbird and Artist
Physical: Click here to view the book at the ASU library
"A true American hero who earned a Purple Heart, a Bronze Star, and a Congressional Gold Medal, Brummett Echohawk was also a Pawnee on the European battlefields of World War II. He used the Pawnee language and counted coup as his grandfather had done during the Indian wars of the previous century. This first book-length biography depicts Echohawk as a soldier, painter, writer, humorist, and actor profoundly shaped by his Pawnee heritage and a man who refused to be pigeonholed as an "Indian artist." Source: University of Oklahoma Press
Too Strong to Be Broken The Life of Edward J. Driving Hawk
Physical: Click here to view the book at the ASU library
"Too Strong to Be Broken explores the dynamic life of Edward J. Driving Hawk, a Vietnam and Korean War veteran, chairman of the Rosebud Sioux Tribe, former president of the National Congress of American Indians, husband, father, recovered alcoholic, and convicted felon." Source: Bison Books
Life of the indigenous mind : Vine Deloria Jr. and the birth of the Red Power movement
Physical & electronic access: Click here to view the book at the ASU library
"In Life of the Indigenous Mind David Martínez examines the early activism, life, and writings of Vine Deloria Jr. (1933–2005), the most influential indigenous activist and writer of the twentieth century and one of the intellectual architects of the Red Power movement. An experienced activist, administrator, and political analyst, Deloria was motivated to activism and writing by his work as executive director of the National Congress of American Indians, and he came to view discourse on tribal self-determination as the most important objective for making a viable future for tribes." Source: University of Nebraska Press
Brotherhood to Nationhood George Manuel and the Making of the Modern Indian Movement
Physical: Click here to view the book at the ASU library
"George Manuel (1920–1989) was the strategist and visionary behind the modern Indigenous movement in Canada. A three-time Nobel Peace Prize nominee, he laid the groundwork for what would become the Assembly of First Nations and was the founding president of the World Council of Indigenous Peoples. Authors Peter McFarlane and Doreen Manuel follow him on a riveting journey from his childhood on a Shuswap reserve through three decades of fierce and dedicated activism." Source: Between The Lines