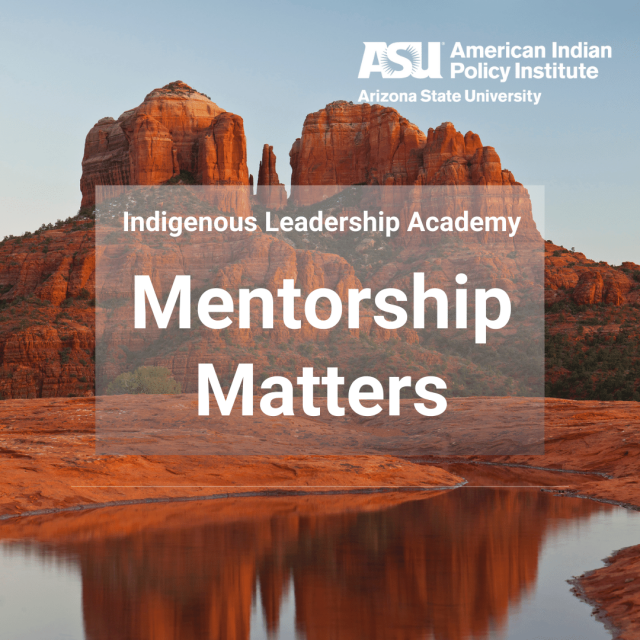 The Indigenous Leadership Academy (ILA)  is excited to announce the hiring of Dr. Denise Bates, PhD as the ILA Curriculum Writer! You can read more about Dr. Bates here. 
Have you ever been given a responsibility that you felt was out of your depth? Did you apply to a program and thought, "now what?" as you waited to hear back from the program? Did you ever wish you had an extra set of eyes and someone to bounce next step ideas off of and gain their insights? If you answered "yes" to any of the above mentioned questions, mentorship is the answer. Mentorship is a wonderful tool to add to your leadership toolkit. I have been both a mentor and a mentee and have benefited greatly from both experiences. One major insight for both roles is to have active participation. You truly get out of it what you put into it. You must make space and time for mentorship if you want to grow as a leader. Mentorship is another aspect to networking and building and maintaining relationships. 
I recently participated in American Indian Graduate Center's Rising Native Graduates Program as a mentor. The program pairs Native American undergraduate and graduate students with Native American recent graduates and working professionals in order to assist them in the next phase of their educational and professional journey. American Indian Graduate Center is a national Native scholarship provider. Since inception, they have awarded more than $350 million in scholarships and academic services to empower over 16,000 Native students representing over 500 Tribes in all 50 states in their pursuit of undergraduate, graduate and professional degrees. The network and experiences I gained there is something I will cherish always. 
I asked a few colleagues of mine what they gained from mentorship and the number one thing across the board was confidence. Confidence in being comfortable in different settings. Confidence to speak up and use your voice. Confidence to bring your own agency to the table. Confidence is so valuable as an emerging leader because it is often lacking when starting on your leadership journey. At the core of confidence, it's really about learning to trust yourself. 
What you can do to have a successful mentorship as a mentee is to have an openness to the process. Let your guard down and learn through the experience. Good communication is key. Ask questions. No question is too silly. This should be a safe space to ask questions. Utilize the resources that you have in a mentor. Utilize their network and gain as much knowledge as you can. Your mentor is on the other side of where you want to go. As previously stated, you only get out of it, what you put in. 
What you can do to have a successful mentorship as a mentor is believe in your mentee and build their confidence. Ask meaningful questions and give insights so your mentee can learn from your missteps. Ask your mentee what they need from you. Again, communication is key. Help your mentee to be comfortable and reassured when working with you and give critiques only when needed. I've learned that the most important thing you can do for your mentee is follow through on what you say you are going to do. Trust them, and they will trust you. 
Henana, pidamaya ye (that is all, thank you). Kristen