Indigenous Education Reading List 2021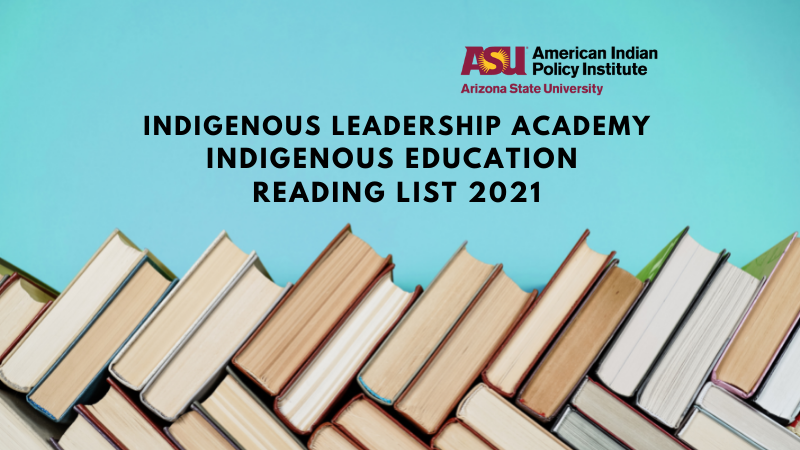 Have you heard? The American Indian Policy Institute is creating an Indigenous Leadership Academy. To stay in the loop, please sign up for our email list here. 
Arizona State University recently started their Fall 2021 semester. With all the new school year excitement the Labriola National American Indian Data Center (Labriola Center) student archivist, Elizabeth Quiroga, and I decided that this reading list would focus on Indigenous education. We have children's, young adult, and adult books on this reading list. Whenever possible, we link the books to the publisher and the Labriola Center, some of which are available through Open Stack.
Not all of the books are easy reads, in fact, most of the books deal with the trauma of boarding/residential schools. Many of these books discuss the resiliency of Indigenous people and what leadership in Indian education looks like. Being from the Twin Cities, "Survival Schools" is the book that I revisit often. The book focuses on two survival schools, the Red School House and Heart of the Earth/ Oh Day Aki. I've been fortunate enough to meet former students of these schools and hear their stories. 
Elizabeth writes, These books help the reader appreciate the difficult journey made by Indigneous people both in the past and those who continue to decolonize academia today. As a young Indigenous student, wanting to create change in academia seems daunting, however these books put into perspective what it means to decolonize and indigenize education. That's why I enjoyed reading "American Indian Stories of Success: New Visions of Leadership in Indian Country", it is an inspiring read that humanizes Indigenous leaders, their stories and their successes. 
We hope you enjoy the list we curated on Indigenous education. Happy reading!
Indigenous Education Reading List 2021:
Physical access: Click here to view the book at the ASU library
"Inspired by the many Indigenous-led movements across North America, We Are Water Protectors issues an urgent rallying cry to safeguard the Earth's water from harm and corruption--a bold and lyrical picture book written by Carole Lindstrom and vibrantly illustrated by Michaela Goade." Source: Birchbark Books
Classified: The Secret Career of Mary Golda Ross, Cherokee Aerospace Engineer
Physical access: Click here to view the book at the ASU library
"Mary Golda Ross designed classified airplanes and spacecraft as Lockheed Aircraft Corporation's first female engineer. Find out how her passion for math and the Cherokee values she was raised with shaped her life and work." Source: Lerner Publishing Group 
Physical access: Click here to view the book at the ASU library
"Secret Path is a ten song digital download album by Gord Downie with a graphic novel by illustrator Jeff Lemire that tells the story of Chanie "Charlie" Wenjack, a twelve-year-old boy who died in flight from the Cecilia Jeffrey Indian Residential School fifty years ago.
Chanie, misnamed Charlie by his teachers, was a young boy who died on October 22, 1966, walking the railroad tracks, trying to escape from the Cecilia Jeffrey Indian Residential School to return home. Chanie's home was 400 miles away. He didn't know that. He didn't know where it was, nor how to find it, but, like so many kids—more than anyone will be able to imagine—he tried.
Chanie's story is Canada's story. We are not the country we thought we were. History will be re-written. We are all accountable. Secret Path acknowledges a dark part of Canada's history—the long suppressed mistreatment of Indigenous children and families by the residential school system—with the hope of starting our country on a road to reconciliation. Every year as we remember Chanie Wenjack, the hope for Secret Path is that it educates all Canadians young and old on this omitted part of our history, urging our entire nation to play an active role in the preservation of Indigenous lives and culture in Canada." Source: Red Planet Books & Comics
Free to be Mohawk: Indigenous Education at the Akwesasne Freedom School
Physical access: Click here to view the book at the ASU library
"Akwesasne territory straddles the U.S.-Canada border in upstate New York, Ontario, and Quebec. In 1979, in the midst of a major conflict regarding self-governance, traditional Mohawks there asserted their sovereign rights to self-education. Concern over the loss of language and culture and clashes with the public school system over who had the right to educate their children sparked the birth of the Akwesasne Freedom School (AFS) and its grassroots, community-based approach. In Free to Be Mohawk, Louellyn White traces the history of the AFS, a tribally controlled school operated without direct federal, state, or provincial funding, and explores factors contributing to its longevity and its impact on alumni, students, teachers, parents, and staff." Source: University of Oklahoma Press
Physical & electronic access: Click here to view the book at the ASU library
"In 1972, motivated by prejudice in the child welfare system and hostility in the public schools, AIM organizers and local Native parents started their own community school. The story of these schools, unfolding through the voices of activists, teachers, and families, is also a history of AIM's founding and community organizing—and evidence of its long-term effect on Indian people's lives." Source: University of Minnesota Press 
The Seeds We Planted: Portraits of a Native Hawaiian Charter School
Physical access: Click here to view the book at the ASU library
"The Seeds We Planted tells the story of Hālau Kū Māna, one of the only Hawaiian culture-based charter schools in urban Honolulu. Against the backdrop of the Hawaiian struggle for self-determination and the U.S. charter school movement, Noelani Goodyear-Ka'ōpua reveals a critical tension: the successes of a school celebrating indigenous culture are measured by the standards of settler colonialism." Source: University of Minnesota Press
Power and Place: Indian Education in America
Physical access: Click here to view the book at the ASU library
"Power and Place examines the issues facing Native American students as they progress through schools, colleges, and on into professions. This collection of sixteen essays is at once philosophic, practical, and visionary. It is an effort to open discussion about the unique experience of Native Americans and offers a concise reference for administrators, educators, students and community leaders involved with Indian Education." Source: Red Planet Books & Comics
Beyond the Asterisk: Understanding Native Students in Higher Education
Physical access: Click here to view the book at the ASU library
"While the success of higher education and student affairs is predicated on understanding the students we serve, the reality is, where the Native American population is concerned, that this knowledge is generally lacking. This lack may be attributed to this population's invisibility within the academy – it is often excluded from institutional data and reporting, and frequently noted as not statistically significant – and its relegation to what is referred to as the "American Indian research asterisk."
The purpose of this book is to move beyond the asterisk in an effort to better understand Native students, challenge the status quo, and provide an informed base for leaders in student and academic affairs, and administrators concerned with the success of students on their campuses." Source: Stylus Publishing LLC 
Indigenous Leadership in Higher Education
Physical & electronic access: Click here to view the book at the ASU library
"This volume offers new perspectives from Indigenous leaders in academic affairs, student affairs and central administration to improve colleges and universities in service to Indigenous students and professionals. It discusses and illustrates ways that leadership norms, values, assumptions and behaviors can often find their origins in cultural identities, and how such assumptions can affect the evolvement of colleges and universities in serving Indigenous Peoples. It contributes to leadership development and reflection among novice, experienced, and emerging leaders in higher education and provides key recommendations for transforming higher education" Source: Routledge
American Indian Stories of Success: New Visions of Leadership in Indian Country
Physical access: Click here to view the book at the ASU library
"American Indian Stories of Success documents life lessons from the leaders who started the first tribal colleges and universities (TCUs), the American Indian College Fund, the American Indian Higher Education Consortium, and all those who worked to pass monumental legislation to further the development of Indian education. This book gives insight into the struggles and obstacles that Native education leaders faced in tribal politics, state and local governments, federal agencies, and academic accrediting agencies. Through it all, a resounding theme of determination, respect, and humility guided these leaders to rise up and call on the resiliency of our ancestors to make the hard decisions in order to direct the action needed." Source: Monte Randall