Indigenous Leadership Academy Application Is Live!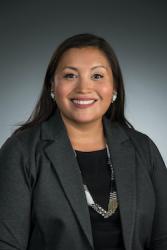 Kristen Talbert
Indigenous Leadership Academy Project Coordinator
The American Indian Policy Institute has launched the Indigenous Leadership Academy (ILA) application! The application is now live and will remain open until November 15, 2021. Click here to start the application process.
The Indigenous Leadership Academy is now looking for emerging leaders who have an understanding of Tribal sovereignty and Tribal communities. The ideal applicant should look to expand their knowledge on issues involving Indigneous people and obtain the tools to positively impact their community. They must also be excited to work with a diverse group of people. The inaugural cohort is for Arizona residents only, however, we are hoping to have it open outside of Arizona in future cohorts.
We are thrilled that the curriculum is written by Dr. Denise Bates (Choctaw/Creek/Cherokee)! Dr. Bates is the Associate Dean of Student Success and Community Engagement for the College of Integrative Sciences and Arts, a Professor of Leadership and Integrative Studies, and a Senior Sustainability Scholar at the Julie Ann Wrigley Global Institute of Sustainability. She is also the Director of the Graduate Studies in Project Management and the Indigenous Peoples of Belize Study Abroad Program: Leadership, Innovation, and Sustainable Well-Being at Arizona State University.
The ILA program will run from January 2022 through March 2022. The program model is a hybrid design, attendance is mandatory. The first and last meeting will be in person and all Arizona State University safety protocols will be followed. All meetings in between will be held via Zoom.The total cost of the program is $1250, if accepted in the cohort you will be automatically considered for a scholarship up to $1000 to offset the cost.
If you have any questions please contact Kristen Talbert, Indigenous Leadership Academy Project Coordinator, at krtalber@asu.edu. #NDNLed