Professional Etiquette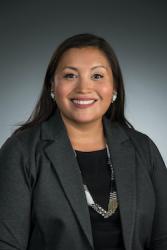 Kristen Talbert
ILA Project Coordinator
The American Indian Policy Institute is creating an Indigenous Leadership Academy! If you would like to stay connected with us sign up for our email list here.
When I was eleven years old my dad took me and my younger sister to a "Take Your Daughter to Work Day" at his company. When we arrived we were given name tags. Since I am right handed, I took the name tag and placed it over my heart on my left side. Initially, I didn't think anything of my decision until one of my dad's colleagues approached me with a valuable piece of advice. He said, "If you are right handed, your name tag needs to be on your right side. That way when you shake hands with someone they can see it clearly as you lean in for a hand shake, rather than having to search for your name on your left side." I quickly switched my nametag to the right side after. That small piece of advice made a huge impact on me as a child, and is something I still remember in professional settings today. That was the first piece of etiquette that was taught to me by someone other than my parents, or a family member.
Oftentimes when people hear the word "etiquette" they think of dining. There is a business side to etiquette and a Tribal side to it as well. I gave the above example as business etiquette. Tribal etiquette is something that is specific to a Tribe that an outsider may not know. One generalized rule of etiquette for Tribes is how to address Tribal council members. Please do not address a Tribal council member by their first name (even if you are on a first name basis with them). Always address them by their title and last name. For example, Chairman/President Last-Name or Councilman/Councilwoman Last-Name. This is a sign of respect they have earned by being elected into office by their fellow Tribal members.
I'm still learning tips on etiquette. Etiquette is a great tool to add to your leadership toolkit. Once you have the basics of etiquette down it will be much easier to keep learning. Remember, a little bit goes a long way. Always be respectful, kind, and polite.
Henana, pidamaya ye (that is all, thank you). Kristen