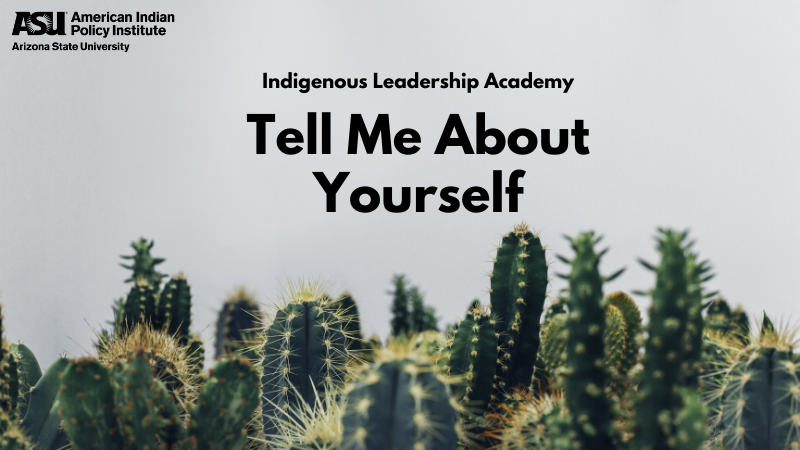 The American Indian Policy Institute has launched the Indigenous Leadership Academy (ILA) application! The application is now live and will remain open until November 15, 2021. Click here to start the application process. 
The one interview question that scares me the most, isn't even a question. It's, "Tell me about yourself." I've prepared so many times for this "question" and yet I still get tongue-tied when it's brought up. My mind immediately goes to, how much is too much to share? How much is too little to share? What do I think they want to hear? Nowhere in my Indigenous upbringing was I allowed to speak highly about myself and my accomplishments. If I did well, others would speak up about how well I did and what I had accomplished. How do we as Native people navigate the space of talking about ourselves without feeling, sounding, or coming off as boastful? Knowing and practicing the answer to "Tell me about yourself" is something everyone should have in their leadership toolkit. 
On a recent work retreat, we were asked to write down twenty-five accomplishments that we were proud of. The accomplishments could be anything. I started with educational accomplishments and then drew a blank. I started to think of all the people that have helped me throughout my life and with each project I accomplished. I felt conflicted about taking credit for an accomplishment that I did not complete on my own. What I decided to do was write about the accomplishments that led me to my current role. By reframing my thinking, I was able to more clearly communicate what I have accomplished. When being asked, "Tell me about yourself", the concept is the same. Discuss all the accomplishments that have led you to this point. 
From an Indigenous perspective, I first introduce myself by talking about where and what community I am from because that gives the other person a sense of place. You can't know me until you know where I come from. Remember, when telling others about yourself, who knows you better than you?
Henana, pidamaya ye (that is all, thank you). Kristen 
Helpful Resources: How to Respond to "So, Tell Me About Yourself" in a Job Interview 
Your Guide to Answering "Tell Me About Yourself" in an Interview