Fulfilling Our Mission Of Service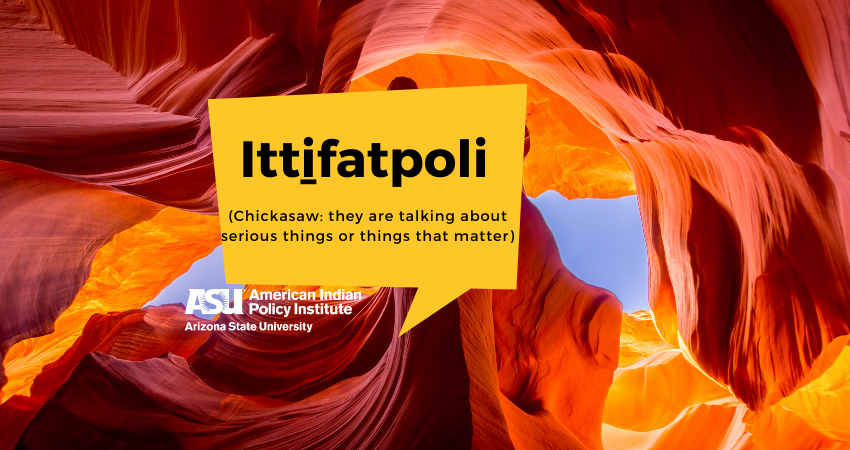 It was a whirlwind of a month at AIPI. It is exciting when we're able to fulfill our mission of service to Indian Country as an Indigenous-led and staffed non-teaching research institute. It is exciting to be a part of the solution.  
As subject matter experts on Tribal Digital Equity and Broadband in Indian Country, we are leading the dialogue and discourse in many arenas. My staff has been busy representing AIPI well. Our Policy Analyst EJ John and Policy Research Assistant Sadie Vermillion, lent a supportive hand to NCAI on broadband issues and participated in the Telecommunications and Technology Sub-Committee at the Annual Convention. They participated in conferences and were interviewed by the media. Our Research Professional H.Trostle presented at the Internet Society's Indigenous Connectivity Summit and has finalized a forthcoming paper on the Tribal Broadband Bootcamp held this summer.  
Our ILA Program Coordinator Kristen Talbert is in the final planning stages for our first Emerging Leader cohort!  Our custom Indigenous-written curriculum is spectacular, thanks to our Thought Leaders Fellow, Dr. Denise Bates, who has spent the last two months writing our proprietary curriculum. And, let's not forget that we couldn't tell these stories or any stories without our Policy and Communications Program Coordinator Beth Santistevan.  
As the leader of AIPI, I spent time this month  sharing my expertise on digital equity with various organizations including the Marconi Society's Decade of Digital Inclusion, I was on a panel presenting to Tribal Leadership at the Department of Interior's Tribal Broadband Summit, I participated in the ATALM Digital Inclusion Summit, the Internet Society's Indigenous Connectivity Summit, and I presented to various funders and participated in several funder retreats. 

One of the highlights of my activities in Indian Country is the annual Phoenix Indian Center's Silver and Turquoise Ball. This event is one of the longest running events in the nation and it raises unrestricted funds for this pillar of the community that serves tribal community members.  I may be biased, I am the president of the Board of Directors.  This year the Phoenix Indian Center honored John EchoHawk, the executive director of the Native American Rights Fund with the 2021 Leon Grant Spirit of the Community Award. He has been recognized as one of the 100 most influential attorneys in America by the National Law Journal. 
As always #BeTheSolution