If You Fail To Plan, You Plan To Fail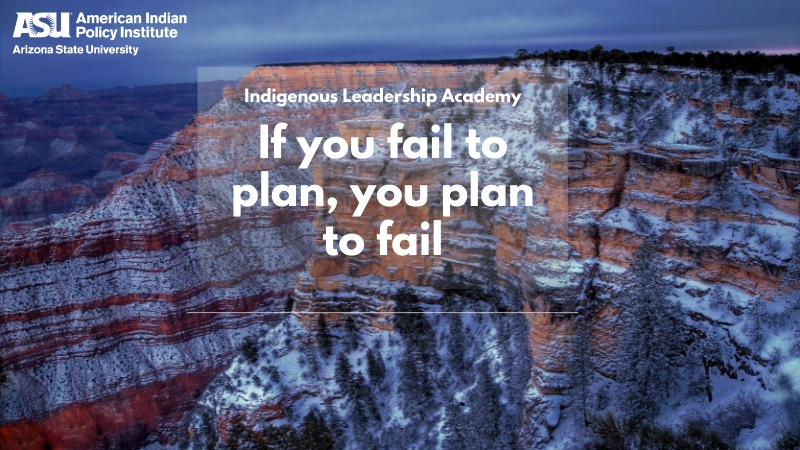 The American Indian Policy Institute will soon announce the inaugural cohort of the Indigenous Leadership Academy! Please join our mailing list to stay up to date here. 
I was jolted awake at 2 am yesterday by my phone ringing. On the other end was my sister. She was traveling to Spain by airplane, fainted on the plane, broke her nose, and was calling me from the hospital. She was sad, and mostly disappointed that her plans had shifted. Luckily, there wasn't anything healthwise wrong with her and by that afternoon, she was sightseeing and posting on her social media. How was she able to jump back on track so quickly? She had a plan. One thing that every leader needs in their leadership toolkit is a plan.
I once worked with a lady who would always say, "if you fail to plan, you plan to fail." Take the story about my sister, for example. Because she had a plan in place, she was able to adjust and move forward with her trip. She always plans her trips in advance and shares with a select few her itinerary so we know where she is. I am her contact for when something goes awry, so I keep my phone on at all times while she travels. Having a plan in place removes anxiety and fear because you know what needs to happen. It is also useful because it will keep you on track. 
Ancestrally, we as Indigenous people have always been planners. For example, take my people, the Dakota. I can see from a food perspective that they were always prepared and had a plan. The Dakota planted corn in the spring, grew it in the summer, and harvested and dried it in the fall. Then in the winter, they would add the dried corn to soups. The entire cycle would begin again in the spring. The entire Dakota food system was like this, always planning ahead, I just used corn as an example. 
As leaders, we have to plan in order to survive in the business world. As a modern indigenous leader we must relearn how to plan, it's in our blood and we have to remember how to do so.
Henana, pidamaya ye (that is all, thank you). Kristen