Indigenous Policy, Politics and Activism Reading List 2021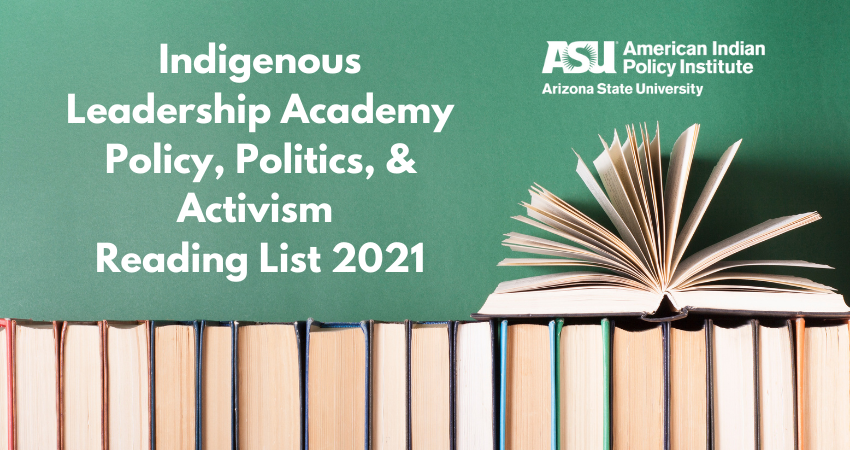 The American Indian Policy Institute has launched the Indigenous Leadership Academy (ILA) application! The application is now live and will remain open until November 15, 2021. Click here to start the application process. 
Being that we are now in November, which is recognized as Native American Heritage Month, the Labriola National American Indian Data Center (Labriola Center) student archivist, Elizabeth Quiroga, and I decided this reading list would focus on Indigenous policy, politics, and activism. This list was very hard to narrow down. We tried to stick to the same criteria that no book is more than $40 (US) and all books can be found at the Arizona State University library. Whenever possible, we link the books to the publisher and the Labriola Center, some of which are available through Open Stack.
I asked a few people what book they would recommend for an Indigenous policy, politics, and activism list and the book that kept coming up was "Custer Died for Your Sins: An Indian Manifesto." I own and have read other books by Vine Deloria, Jr. but not this one. Many of the people who recommended this book said it was an easy book to follow and understand in order to grasp the baseline knowledge of what Indian policy is. I've added this book to my personal reading list and am looking forward to learning from it.
Student Archivist, Elizabeth, writes, It was difficult narrowing down the book list for this post, a topic we often discuss with other peers in the Labriola Center is on the politics, policies, and activism that surrounds and comes out of our communities. A topic often brought up when we share the different circumstances and issues that our communities face is the issue of movement memory. Most students educated in the United States public school system are not educated on activism history, particularly Indigenous activism. It is with book lists like this, and safe spaces like Labriola, where we can reintegrate movement memory into helping our generation navigate these changing times. To get a glimpse into international Indiengous politics and activism I'd recommend reading "Speaking of Indigenous Politics: Conversations with Activists, Scholars, and Tribal Leaders," a collection of interviews with J. Kehaulani Kauanui's radio show 'Indigenous Politics: From Native New England and Beyond.'
We hope you enjoy the list we curated on Indigenous policy, politics, and activism. Happy reading!
Indigenous Policy, Politics, and Activism Reading List 2021:
Custer Died for Your Sins: An Indian Manifesto
Physical access: Click here to view the book at the ASU library
"In his new preface to this paperback edition, the author observes, "The Indian world has changed so substantially since the first publication of this book that some things contained in it seem new again." Indeed, it seems that each generation of whites and Indians will have to read and reread Vine Deloria's Manifesto for some time to come, before we absorb his special, ironic Indian point of view and what he tells us, with a great deal of humor, about U.S. race relations, federal bureaucracies, Christian churches, and social scientists. This book continues to be required reading for all Americans, whatever their special interest." Source: University of Oklahoma Press
We All Go Back to the Land: The Who, Why, and How of Land Acknowledgements
Physical & electronic access: Click here to view the book at the ASU library
"Land Acknowledgements often begin academic conferences, cultural events, government press gatherings, and even hockey games. They are supposed to be an act of Reconciliation between Indigenous peoples in Canada and non-Indigenous Canadians, but they have become so routine and formulaic that they have sometimes lost meaning. Seen more and more as empty words, some events have dropped Land Acknowledgements altogether.
Métis artist and educator Suzanne Keeptwo wants to change that. She sees the Land Acknowledgement as an opportunity for Indigenous peoples in Canada to communicate a message to non-Indigenous Canadians—a message founded upon Age Old Wisdom about how to sustain the Land we all want to call home." Source: University of Toronto Press
Speaking of Indigenous Politics: Conversations with Activists, Scholars, and Tribal Leaders
Physical & electronic access: Click here to view the book at the ASU library
"On her radio program Indigenous Politics, J. Kēhaulani Kauanui talked candidly and in an engaging way about how settler colonialism depends on erasing Native peoples and about how Native peoples can and do resist, bringing Indigenous activism to the mainstream. Collected here, these conversations speak with clear and compelling voices about a range of Indigenous politics that shape everyday life." Source: University of Minnesota Press
Keeping the Campfires Going: Native Women's Activism in Urban Communities
Electronic access: Click here to view the book at the ASU library
"The essays in this groundbreaking anthology, Keeping the Campfires Going, highlight the accomplishments of and challenges confronting Native women activists in American and Canadian cities. Since World War II, Indigenous women from many communities have stepped forward through organizations, in their families, or by themselves to take action on behalf of the growing number of Native people living in urban areas. This collection recounts and assesses the struggles, successes, and legacies of several of these women in cities across North America, from San Francisco to Toronto, Vancouver to Chicago, and Seattle to Milwaukee. These wide-ranging and insightful essays illuminate Native communities in cities as well as the women activists working to build them." Source: University of Nebraska Press
The Zapatistas' Dignified Rage: Final Public Speeches of Subcommander Marcos
Physical access: Click here to view the book at the ASU library
"For over two decades, Mexico's Zapatista indigenous movement has stood as a beacon of hope for activists around the world working against economic exploitation and government oppression. Subcommander Marcos was their military leader and spokesperson, a poetic advocate who was, for many, almost indistinguishable from the movement he championed. On May 25, 2014, in the town of La Realidad, deep in the Zapatistas' heartland, Subcommander Marcos delivered a speech before thousands of supporters in which he declared that he would henceforth "cease to exist," a change that made way for the movement's indigenous members to assume a more prominent role." Source: AK Press
Electronic access: Click here to view the book at the ASU library
"Implementation in Canada of the United Nations Declaration on the Rights of Indigenous Peoples (UNDRIP) is a pivotal opportunity to explore the relationship between international law, Indigenous peoples' own laws, and Canada's constitutional narratives." Source: McGill-Queen's University Press
Navajo Courts and Navajo Common Law
Physical & electronic access: Click here to view the book at the ASU library
"The Navajo Nation court system is the largest tribal legal system in the world. Justice Raymond D. Austin considers the history and implications of how the Navajo Nation courts apply foundational Navajo doctrines to modern legal issues. In addition to detailed case studies, Justice Austin provides a broad view of tribal law, outlining how other indigenous peoples can draw on traditional precepts to control their own futures." Source: University of Minnesota Press
The Third Space of Sovereignty
Physical access: Click here to view the book at the ASU library
"The Third Space of Sovereignty offers fresh insights on such topics as the end of treaty-making in 1871, U.S. citizenship in the 1920s, native politics during the civil rights era, and the current issues surrounding casinos. Kevin Bruyneel shows how native political actors have effectively contested the limits that the United States has imposed on their ability to develop economically and politically on their own terms." Source: University of Minnesota Press
Physical & electronic access: Click here to view the book at the ASU library
"The Beginning and End of Rape makes available the powerful writings in which Sarah Deer, who played a crucial role in the reauthorization of the Violence Against Women Act in 2013, has advocated for cultural and legal reforms to protect Native women from endemic sexual violence and abuse. These essays point to the possibility of actual and positive change in a world where Native women are systematically undervalued, left unprotected, and hurt." Source: University of Minnesota Press
Anti-Indianism in Modern America: A Voice from Tatekeya's Earth
Physical access: Click here to view the book at the ASU library
"Cook-Lynn says that the Indian Wars of Resistance to the nineteenth- and twentieth-century colonial effort to seize native lands and resources must be given standing in the face of the ever-growing imperial narrative of America--because the terror the world is now witnessing may be the direct consequence of events which began in America's earliest dealings with the natives of this continent. Cook-Lynn's story examines the ongoing and perennial relationship of conflict between colonizers and indigenous people, and it is a story that every American must read." Source: University of Illinois Press