Planning To Follow Through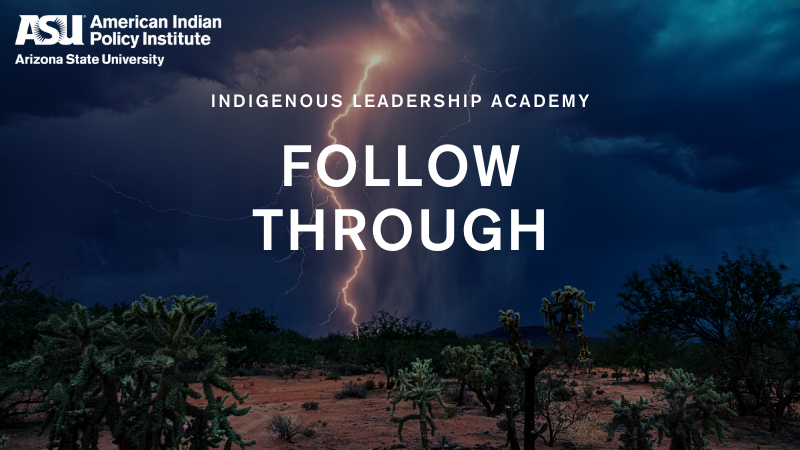 The American Indian Policy Institute will announce the inaugural cohort of the Indigenous Leadership Academy soon. Stay tuned!
In a discussion about the last blog post, "If you fail to plan, you plan to fail.", my colleague, Beth Santistevan, brought up the fact that follow-through is a necessary part of the next step in planning. She made an excellent point. I can think of so many times when I have great ideas and plans but little to no follow-through and those ideas and plans went nowhere. A tool for every leader's toolkit is the ability to follow through. 
Here are a couple of things you can do to ensure that you follow through with your plan to completion. Set a timeline. It may seem basic but it's a great starting off point. When you know when you would like to have the project completed, you can work backward and break that down into much smaller, more digestible steps. I find Gantt charts to be very helpful as I know where things will overlap and I can actually see what will happen if I go over my allotted timeline. Another thing is to find support. I know from personal experience that when I know others have eyes on the project that makes me want to complete it on time. The people I have as support people on the project are people that I bounce ideas off of and they offer advice from their own experiences. I'm always so grateful to have someone else there to offer advice and share with me what they've learned. 
The Indigenous leadership perspective of following through is really a "we" not "me" mentality. Without following through you are being disrespectful to everyone else's time and effort. Planning is a collection of everyone's perspectives, hence, follow-through has to incorporate everyone as well. You know what it feels like to accomplish something, so following through gives the collective that same sense of accomplishment. In turn, having the same support system for future plans is highly likely. 
From setting a timeline to putting your plan into action and everything in between, it all comes down to following through. It's a component that isn't discussed enough (trust us, we googled it) and yet it's what makes the plans actionable.
Toghoyaqh (Thank you). Henana, pidamaya ye (that is all, thank you). Beth and Kristen