Co-Facilitators For ILA Modules Two Through Nine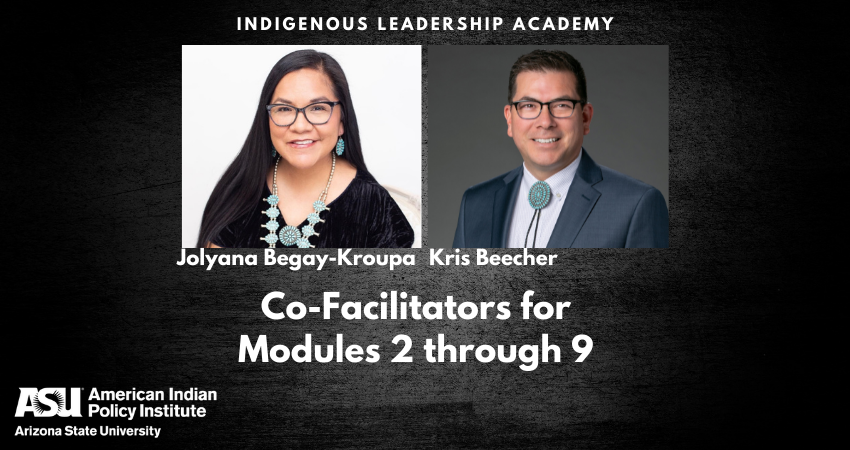 The Indigenous Leadership Academy is thrilled to announce the co-facilitators for modules two through nine, Kris Beecher and Jolyana Begay-Kroupa. Kris is an attorney at the leading global law firm Dickinson Wright. Jolyana is currently Interim CEO of the Phoenix Indian Center. Both are heavily involved in the Phoenix American Indian community and are excited to be co-facilitating the Indigenous Leadership Academy. You can read more about the co-facilitators below.
Kris Beecher is an enrolled member of the Navajo Nation and is a graduate of the Sandra Day O'Connor College of Law and W.P. Carey School of Business at Arizona State University and holds a Juris Doctor/MBA joint degree. Kris is a member of the Navajo Nation Bar Association and served a 3-year term as Chairman of the Board of the largest public housing authority in Indian Country, and nearly the 8th largest in the United States. Kris holds a BA in Political Science and a certificate for Political Entrepreneurship from ASU where he graduated summa cum laude with a Minor in Communication and holds a certificate in Indian Law from ASU Law. Kris is an attorney at the law firm Dickinson Wright where his practice areas include Business & Commercial litigation and Indian law. He currently serves as an Advisory Board member for ASU's School of Politics and Global Studies.
Originally from Tuba City, AZ, and a graduate of Tuba City High School, Kris volunteers his time speaking to Native American youth via the Pipeline to Law Initiative which encourages them to seek out careers in Law and to become the next generation of Tribal lawyers, judges, and leaders. Kris has been a part of Native Vote in Arizona for the last 6 years, and in the 2020 election cycle served as Regional Voter Protection Director for the Arizona Democratic Party, working exclusively in the Navajo Nation.
​​Jolyana Begay-Kroupa is an enrolled member of the Navajo Nation and is originally from Fort Defiance, AZ. She has been at the Phoenix Indian Center for over nine years and is currently serving as the Interim CEO. She has a Masters of Arts in Social and Philosophical Foundations of Education with an emphasis in American Indian Educational Policy and Bachelors of Arts in Elementary Education along with certificates in Dine' Language. Her passion is in supporting the urban-living American Indian community and assuring continued service is present to support the needs of her community. She not only provides oversight for grant-writing for federal and foundation funding but provides a strong lens for language and culture to always be interwoven and incorporated in all aspects of the Phoenix Indian Center's client-centered services. Jolyana is also a part-time Diné language instructor for Stanford and Arizona State Universities.