ILA Coordinator Wraps up Module 10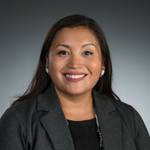 Kristen Talbert
Indigenous Leadership Academy Program Coordinator
Saturday, March 26, 2022, marked the closing of the American Indian Policy Institute's (AIPI) first-ever Indigenous Leadership Academy (ILA). A bittersweet conclusion to a historic inaugural program, the cessation of ILA will leave a gap in AIPI's weekly activities and those of us at AIPI will eagerly welcome the next cohort coming in the Fall of 2022.
Although observing the completion of such a vigorous and successful program is a difficult task, there is now time for reflection on lived experiences and observations, which will in turn allow for continuous growth and advancement in what is a prominent Indigenous leadership program, now and in the future.
Throughout the course of 9 weeks, 10 distinct modules took place. Within each module, a series of resources including handouts, readings, presentations, peer mentor discussions, and guest speakers were at the hands of and experienced by the cohort. AIPI will continue to contemplate what an incredible experience this was and will share more about this exciting program in the coming weeks.
We are so grateful to our guest speakers for module ten! These experts in their respective fields imparted their knowledge, shared their insights, and gave their time to the ILA. You can read more about each of our talented guest speakers below.
Module 10: Developing Leadership Capacity and Looking to the Future;
Shareé Hurts is the Strategic Partnerships Program Manager for APS working with community partners to create, innovate and implement programs that benefit Arizonans. Prior to APS, Shareé spent ten years in the healthcare industry, primarily focused on Medicaid, specializing in project management, organizational governance, and proposal development. In addition to her career in the corporate sector, Shareé has continued her passion of serving the community. This includes her passion project of serving through teaching, an adjunct faculty member at South Mountain Community College currently teaching within the Storytelling Institute. A native of Oakland, California before calling Phoenix home. Shareé sits on the board of FIBCO Family Services and is a member of the Nation Coalition of 100 Black Women, Metro Phoenix Chapter.Shareé enjoys traveling with her two children and spending time with family and friends. Shareé has a bachelor's degree in political science from ASU West and a master's degree in law from the Sandra Day O'Connor College of Law, ASU.
Vanessa Roanhorse (Diné) provides leadership and oversight over the entire portfolio of work as well as leads key strategies focused on ecosystem building, access to capital, and community-led economic development activities. Vanessa got her management chops working for 7 years at a Chicago-based nonprofit, the Delta Institute, which focused on the Great Lakes region to build a resilient environment and economy through creative, sustainable, market-driven solutions. Vanessa oversaw many of Delta's on-the-ground energy efficiency, green infrastructure, community engagement programs, and workforce development training. Vanessa is a 2021 PayPal Maggie Lena Walker's Emerging Leader Awardee and a 2020 Conscious Company Media's World Changing Woman in Sustainable Business Awardee. She is a 2021 Purpose Fund Building Fellow and a 2020 Boston Impact Initiative Fund-Building fellow. She is a founding member of the Zebras Unite Co-op and an advisor to the Angels of Impact Fund. She sits on the boards of Zebras Unite, Delta Institute, and Groundworks New Mexico. Vanessa is one of 8 co-founders of Native Women Lead, an organization dedicated to growing Native women into positions of leadership and business. Vanessa is a Diné (Navajo) citizen and resides in Tiwa Territory (Albuquerque, NM).
Jacob Moore (Tohono O'odham) is responsible for the intergovernmental affairs between ASU and tribal nations and communities. Previously, Jacob Moore was managing partner for Generation Seven Strategic Partners, LLC, and also worked as an Economic Development Analyst and Special Assistant on Congressional and Legislative for the Salt River Pima-Maricopa Indian Community. Jacob previously served as a member of the Arizona State Board of Education. Mr. Moore is currently on the board of directors for the Arizona Community Foundation, the ASU Morrison Institute, WestEd, the Arizona Minority Education Policy Analysis Center (AMEPAC), and Touchstone Behavioral Health. Mr. Moore earned a Bachelor of Science degree in Finance and an Executive MBA from the Arizona State University's W.P. Carey College of Business and is a citizen of the Tohono O'odham Nation.
This blog post was written in collaboration with my wonderful coworker, Sadie Vermillion. She has done so much behind the scenes during the course and has been a joy to work with. Pidamaya ye (thank you) Sadie for everything including giving up your Thursday nights to make sure the program was a success! Henana, pidamaya ye (that is all, thank you). Kristen