AIPI "Wrapped" 2022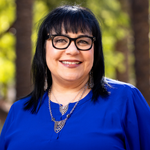 Traci L. Morris, Ph.D
Executive Director
It's the end of the year, and everyone (that I know because I'm of a certain generation) on social media is posting their Spotify Wrapped 2022 playlist. So as I started thinking about the end of the year for AIPI and being a music person, I naturally saw the correlation.
AIPI "Wrapped" will be thoroughly covered next month when we send our Annual Report, but how about some highlights. First, I am amazed at the productivity of our stellar team. We've published so many items and posted them to the website, I haven't been able to count them all yet. I know there's been 45 blog posts, 4 major policy briefs, 6 National Congress of American Indians resolutions produced, and 11 monthly legislative updates. This is not busy work either. Some of it includes briefs, some is the ILA blog, and others include analysis of legislative actions in both the state and federal arenas.
The AIPI Team is a well-oiled machine. Because of this, we are in the process of updating the website in December, which will be a light month for us in terms of publications. We need time to regroup. But while this is happening, we've got applications open for our next cohort of ILA (so please share when you see our emails or posts). The research and policy solutions team is working on a new article for a journal that we have been asked to write about Digital Equity and Sovereignty, and our Comms team is polishing the Annual Report.
We continue to be visible and represent. EJ John was interviewed by Marketplace, he presented twice at the NCAI annual convention, and he presented at the ASU Tribal Leaders Day. I was excited to present on Digital Equity at the Marconi Society Decade of Digital Inclusion and NASA Marshall Space Flight Center.
We thank you for your interest and support! As always, #BeTheSolution