Great Start for the First Quarter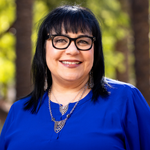 Traci L. Morris, Ph.D
Executive Director
February was a productive month at AIPI with events, multiple training's, and representation at external events. As you can see, we participated in several events related to digital equity, digital inclusion, and digital sovereignty, with Dr. Morris and EJ John, both imparting different sets of expertise in the space at different events.
We continue to seek additional funding. As we build relationships with new funders, they are coming on board. But we are excited to let you know that JP Morgan Chase is now helping to fund the Indigenous Leadership Academy. We hope to announce another funder and watch for an announcement later in March with new details where we hope to announce yet another funder and a new partner for ILA. If you are interested in learning more about funding opportunities or partnerships with AIPI, please reach out to me directly.
I'm super excited to say that we're starting on a major website revision. It's been a long time coming because we have additional levels of approval and design as an entity of Arizona State University. So we ask that you "pardon our dust" as we completely rebuild the site. As you might guess, some links may not work, or it may look out of date. If you need something, please email us and ask for it.
Finally, we invite you to take a look at our annual report from last year. It's a very comprehensive document outlining our impact. We have it available in PDF or Issuu.