ILA Expresses Gratitude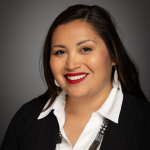 Kristen Talbert
Indigenous Leadership Academy Program Manager
We are halfway through the Fall 2023 cohort of the Indigenous Leadership Academy (ILA)! We've had the honor of having very talented guest speakers during each module. We are so appreciative of all our guest speakers for modules one through five. They are experts in their respective fields and were kind enough to impart their knowledge, share their insights, and give their time to the ILA. You can read more about each of the amazing guest speakers below.
Module 1: Indigenous Leadership Practices;
Heidi Todacheene is a citizen of Navajo Nation and serves, by Presidential appointment, as Senior Advisor to Secretary Deb Haaland at the U.S. Department of the Interior. Before that, she was the Director of the Congressional Native American Caucus for the 116th U.S. Congress, and Legislative Counsel for then New Mexico Congresswoman Haaland. Previously, Heidi worked on intergovernmental affairs, economic development, and public safety issues on behalf of Navajo Nation, served at the New Mexico Indian Affairs Department, and as a civil litigation attorney. Heidi is the first in her family to attend law school and graduated from the University of New Mexico School of Law with honors. She is licensed in New Mexico, Washington D.C., and the U.S. District Court for New Mexico. Click here to read about her time with the ILA.
Module 2: Understanding Political and Economic Contexts in Indian Country;
April Olson has served Tribal governments for over 20 years, first as a social worker and now as an attorney and judge. April is currently a partner with the law firm of Rothstein Donatelli LLP. April practices exclusively in the field of federal Indian law and tribal law and her experience includes a wide variety of practice areas. A substantial part of her practice involves Indian Child Welfare Act (ICWA) matters. April has represented 9 tribes in ICWA matters in at least 10 states across the country. She has provided ICWA representation to tribes at the trial court level and in appellate proceedings. Most recently, April authored an amicus brief in the Supreme Court case of Brackeen v. Haaland. April also serves as Chief Judge of the Tolowa Dee-ni' Nation Tribal Court, where she handles child welfare matters, and she is an Appellate Justice for the Hualapai Nation and the Fond du Lac Band of Lake Superior Chippewa. April is licensed to practice in the State Courts of California and Arizona, the District Court of the Arizona, the Ninth Circuit Court of Appeals and the United States Supreme Court. Ms. Olson is a member of the Navajo Nation Bar Association and the San Carlos Apache Bar Association and may practice in their respective courts. Ms. Olson has also practiced in the tribal courts of the Gila River Indian Community, the Hualapai Tribe, the Kaibab Band of Paiute Indians, the Havasupai Tribe, the Pechanga Band of Luiseno Indians and the White Mountain Apache Tribe.
Module 3: Research, Data, and Indigenous Knowledge;
Vina Begay (Diné Nation) is the Assistant Librarian for the Fletcher Labriola at ASU West. She graduated with a Bachelor of Arts in Theater. Before professionally working as a Librarian and Archivist, Vina worked in the Theater profession for 16 years, including low budget student films. Vina graduated with a Master of Business Administration and Master of Library and Information Science with a specialization in Archival Studies and Digital Information Management. Vina has dedicated her career to safeguarding, preserving, and advocating the implementation of the Protocols of Native American Archival Materials within western institutions to ensure proper care and management of Indigenous Information of traditional knowledge. Additionally, Vina has served as Tribal Archivist consultant for Tribal communities in assistance with establishing Indigenous Archival Centers within their community, including developing archival practices tailored to the Tribe's cultural beliefs, practices, and governance structure.
Module 4: Innovation and Sustainable Enterprise- Building;
America Meredith (Cherokee Nation) is the publishing editor of First American Art Magazine and an art writer, critic, visual artist, and independent curator, whose curatorial practice spans 29 years. She earned her MFA degree from the San Francisco Art Institute and taught Native American art history at the Institute of American Indian Arts, Santa Fe Community College, and Cherokee Humanities Course. Northeastern State University named Meredith its 2018 Sequoyah Fellow. Based in Norman, Oklahoma, Meredith serves on the Cherokee Arts and Humanities Council board and the collections and acquisitions committee of the American Indian Cultural Center Foundation.
Module 5: Response and Responsibility;
Geoffrey Blackwell (Muscogee (Creek) Nation) serves as the Vice-President of the Advisory Board of Directors for the American Indian Policy Institute of Arizona State University. He is a recognized expert in Tribal economic and corporate development, as well as information and communications technology infrastructure deployment. His work with American Indian Tribes, Alaska Native Villages, and Native Hawaiians, has taken him to some of the most remote regions in the US and to other Indigenous communities worldwide. In 2020, Blackwell was a recipient of Public Knowledge's IP3 Internet Protocol Award for his broadband policy advocacy on behalf of Tribal Nations. He has testified before the U.S. Congress on seven occasions, as a Tribal representative and as a senior federal regulator and policymaker. He also testified before the U.S. Commission on Civil Rights, on the impacts of covid on Tribal communities.
We are very grateful to all of our guest speakers thus far! Keep following us as we unveil the next round of guest speakers.