Ittifatpoli: Executive Director Update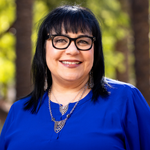 Dr. Traci L. Morris
Executive Director
On August 21 through 22, 2023, I attended the Chickasaw Listening Conference in Oklahoma City, Oklahoma. As a citizen who lives outside Chickasaw Treaty Territory and a member of the Arizona community council, I and 300 plus other members from various community councils in various states attended the first listening council since 2007. The conference was an opportunity to gather with fellow council members, share ideas, and provide feedback for at-large programs and services in the areas of health, housing, education, and more.
This year is the 40th anniversary of the signing of the Chickasaw 1983 Constitution. With a portfolio of over 100 business enterprises and a population of over 80,000 both inside and outside of the Treaty Territory, Governor Anoatubby stated that the Listening Conference "is an exercise in self-determination."
Over the course of this two-day event, I met a lot of Chickasaws and learned about the many programs that CN offers to its citizens (we are not a per capita Tribe). Additionally, we visited both the First American Museum and the Chickasaw Nation Cultural Center. I've been to the cultural center a number of times, but I always love going there. But, I had never been to the new First American Museum. I've been excited to see this museum, and it did not disappoint. It is a very indigenous space, and the installations were powerful and moving.
As the line spoken by John Trudell from the movie Smoke Signals goes, "It's a good day to be Indigenous." That was the way it felt being in Oklahoma for the first time after the pandemic. Chickasha Saya! (We Are Chickasaw)
As Always #BeTheSolution